What You Need You Need To Know When Getting Started In Affiliate Marketing
It's an exciting time when you're getting started in affiliate marketing. For many people, it's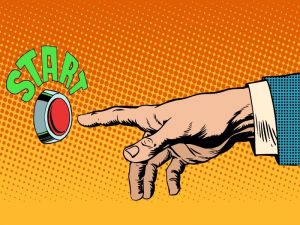 their first taste of the online business world. Product creators pay affiliate marketers a commission for sales that they generate for their products. You're called an affiliate because you're associated with the product or service but you're not directly part of the product creator's business.
The major attraction to product creators about the affiliate marketing business is that they can get their affiliates to do their marketing for them and they pay nothing if the affiliate doesn't sell anything. So, when you're getting started in affiliate marketing it's important to know a few things before jumping in head first.
5 Things They Don't Tell You When You're Getting Started In Affiliate Marketing
1. You Will Need To Learn Some New Skills 
While affiliate marketing is certainly a real way of creating an online income, if you're new to the online business world and just getting started in affiliate marketing, you will need to learn a fair few online marketing skills and techniques to ensure that you earn money.
2. Having Your Own Website Or Blog Will Help
In the purest form of affiliate marketing you don't need your own website as you can just direct prospects to a product sales page. But, if you're serious about getting started in affiliate marketing,  you'll need your own website or blog.  Smart affiliates use their website or blogs as their main vehicle to build a list of prospects and to direct potential clients to affiliate products and services. This is done via well written reviews, high quality articles identifying key problems and offering solutions by way of affiliated products, and banner ads placed strategically on key areas of their website or blog.
FREE Checklist: Affiliate Marketing For Beginners

3. You Will Need A Marketing Budget
Affiliate marketers still face that same old issue that everyone online faces – how to attract more traffic to their blogs and websites. As such, when you're getting started in affiliate marketing, some marketing knowledge and a budget of sorts are often required. Many affiliates do operate on low budgets, and their outgoings tend to be minimal. No staff costs and no overheads like office space make it the perfect starter business.
4. It Can Be Very Competitive 
The apparent ease of affiliate marketing is also its drawback. You're not the only kid on the block who wants to earn a generous commission just by introducing a client to a product they need. Competition for affiliate marketing is on the up, but smart affiliate marketers pick out and tap into tight, rich niches.
5. It's Not A Way To Get Rich Quick 
If you're getting started in affiliate marketing because you think it's a way to get rich quick –  you're in the wrong place. You can't just put out a couple of affiliate products online an expect to make money overnight. It takes time to build an audience and a customer base. If you accept that making money with affiliate marketing is a legitimate business model you'll realize that you have to put appropriate business strategies in place to succeed and these take time to implement.
Your Blueprint For Getting Started In Affiliate Marketing
When you start an affiliate marketing business it allows you to make money from other people's products with none of the hassles or accountability. You don't need to create a product. Or a sales page. You don't need to deal with after sales support. No, none of all that. Your job is to send traffic to an offer and then you get paid a commission every time someone buys through your affiliate link. But, as you can see from the points above, it's certainly worth learning the ins and outs of how to do affiliate marketing if you want to make money and not lose money. This Affiliate Marketing Blueprint explains everything that you need to know about getting started in affiliate marketing so that can you can build your own successful online business.