How Easy Is It Getting Started In Affiliate Marketing?
Getting started in affiliate marketing is a great way to step into the world of online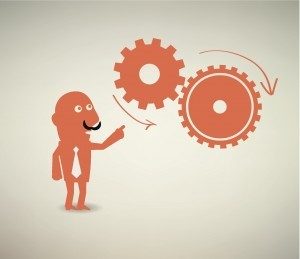 business. Affiliate marketing represents a large spectrum of ways that you can make money on the internet. So what is affiliate marketing?
Basically, it is the concept of promoting products and services that are owned or provided by others and getting paid a commission for any sales that you generate. Think of it being like a commission paid sales person. Affiliate marketers are like the "middle man" in a business deal. They bring the customer and the product together.
Many successful online entrepreneurs have launched their internet businesses by getting started in affiliate marketing, So how did they do it?
6 Steps To Getting Started in Affiliate Marketing
1 What Do You Want To Promote?
The first choice you are likely to make when getting started in affiliate marketing is knowing what products you want to promote. You can choose digital products, physical products  or both. Digital products include eBooks, video courses and membership sites that can be used online or downloaded directly to the customer's computer. A physical product is something that is physically delivered to the customers address. Remember that the product owner will organise all the delivery and fulfilment of the product and, for a lot of affiliates, their choice of products depends what they find interesting and the audience they are targeting.
2. Who Are You Going To Sell It To?
Making money with affiliate marketing is all about having a clearly defined target audience but it's important to note that in most cases, affiliate marketers should not be selling anything. Many marketers make this mistake when getting started in affiliate marketing. Though you may feel like a salesperson, the truth is, you are merely leading buyers to the sales page of the products you are promoting. The product or service owner has likely spent a lot of time and money on their sales copy, so you should always leave the selling to them. All you need to do is provide your website visitors with the perfect solution to the problem.
3. Which Affiliate Program Will You Chose?
Your next step in getting started in affiliate marketing is to find a company that has an appropriate affiliate program with the right products and services that you want to sell. There are lots of affiliate programs to choose from. Remember that, as an affiliate, you are doing the marketing for the product owner and you only get paid when you sell something. Be sure to check that you are using affiliate programs that pay good commissions, you get support from the product owner, know how you get paid and what proof there is that the product actually sells. Some popular affiliate websites that affiliates use to find products and services to sell are: Amazon, CJAffiliate, ClickBank and JVZoo.
4. Build A Website
Setting up a website is not as complicated as you may think when you're getting started in affiliate marketing. First you need a domain name, which is the name of your website and some website hosting, which is the space you 'rent' on the internet. There are many software programs available that make the whole process easy. The WordPress website building platform is an easy to use and affordable way to get professional affiliate marketing websites online quickly and easily in only a few clicks!
5. How Will You Reach Your Potential Customers?
Generating customer traffic to your website and sales pages is often the most challenging aspect when getting started in affiliate marketing.  There is good affiliate marketing traffic and there is bad affiliate marketing traffic. Good traffic comes from a targeted audience who are looking to buy the products and services that you are promoting. Bad traffic is basically putting your sales messages in front of people who are not interested or have no intention of ever buying anything.  When it comes to affiliate marketing traffic there are two main routes to take. You can use free marketing methods or paid marketing. Both have their advantages and disadvantageous and it is always advisable to use at least one of each method.
6. Start To Build A List
It doesn't matter what you do online or what you are trying to sell, having an email list of prospects you can promote to is the most effective way to make money online. List building is one of the most important elements not only when getting started in affiliate marketing but throughout your entire online business journey. You may think that you could just send your prospects directly to a sales page for them to buy from you there and then. But, statistically, a prospect needs to see your message at least 7 times before they are ready to make a purchase. Also, if the prospect does not buy, youhave lost them forever. But if they are on your list, it gives you the opportunity to promote other related products or services to them at a later date.
Free Blueprint For Getting Started In Affiliate Marketing
The points above have given you a brief overview on what is affiliate marketing. If you have considered making money online, you may want to consider learning more on how to do affiliate marketing. It's how many people make their first online dollar. It can provide you with a great deal of knowledge about the buying, selling, and marketing processes that occur on the internet. You don't have to worry about creating products, payment systems, organizing delivery, customer support or any of that stuff. All you have to do is send traffic to an offer and then you get paid a commission every time someone buys through your affiliate link. Check out this Free Affiliate Marketing Business Blueprint that explains in detail the step-by-step process for getting started in affiliate marketing and how you can make money online like other successful internet entrepreneurs.