Work At Home Business Or Job – Which Is Right For You?
A work at home business is different to a work at home job. If you run a work at home business you are essentially working for yourself. On the other hand, with a work at home job, you are working for somebody else.

People often want to work from home for a variety of reasons. Maybe you just had a child and want more work-life balance, or perhaps you have an illness that makes it difficult for you to get out of the house. Or maybe you just like being home and want the freedom to work your own way.
Whatever your reasons for wanting to work at home, you'll need to choose whether or not you want a work at home business or a work at home job. Here are 8 questions to help you decide.
Work At Home Business Or Work At Home Job? 8 Questions To Help You Decide 
1. Are You Self-Motivated?
To run your own work at home business you need to be very self-motivated. Your day will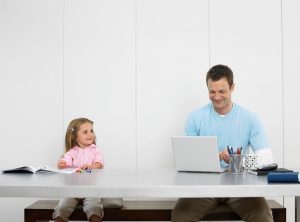 involve all aspects of business. This includes generating new prospects and leads, dealing with existing customers, organizing your products and services, monitoring your competition and marketing. You'll be 100% responsible for delivering the work and achieving your goals. You'll even be responsible for deciding the methods you'll use to do the work.
2. What Skills Do You Have?
Take a piece of paper and write down a list of the skills you currently have, based on what you've already done in the past. Can any of these translate into a work at home business? Label them appropriately. Are any of these common work at home jobs such as data inputting or transcription work. Some skills cross over into both, but which side of the list gets full faster?
3. What Sort of Lifestyle Do You Want?
A work-at-home job requires you to "show up" for work on time each day that you're scheduled. And you may have little control over that schedule. What's more, with work-at-home jobs it's a lot harder than typical jobs to call in sick, whether it's you or a child who is sick. Often the first 90 days you cannot miss your schedule at all if you want to keep the position. Are you ready for that? Or, would you prefer a more family-oriented type of schedule that can be adjusted more easily and is more based on what you achieve rather than what you do  per hour?
4. Do You Already Have Some Legitimate Home Based Business Ideas?
If you have already researched a business idea, and feel as if you want to do that instead of working for someone else, can you pull it off? What steps do you need to take to make it a reality? Are you the type of person who is able to organize yourself and also take the steps needed to get your business off the ground? Can you find and afford help if you're not sure what to do to get the business going? Does the thought of all this stress you out?
Free Checklist & Toolkit: How To Choose Your Online Niche

5. How Do You Feel About Punching A Clock?
For some people the idea of clock punching is relaxing but for others it feels like a nightmare. Neither feeling is right or wrong because it takes all types of people to make this world work. If you know up front that you are fine with logging your time worked and you'd rather have somebody else tell you what to do, then maybe a work at home job is best for you. If that feels like prison to you, then probably starting a small work from home business is a better option.
6. Do You Have Money to Start A Work At Home Business?
An online business is the most cost effective and best small business to start. But even though it does cost less to start than a traditional offline business, it still requires some financial investment. Do you have that money available? If not, do you have a way to get it? Perhaps working at a job first, while you save for and work on your business on the side, is the way to go if you don't have the funds to start.
7. Do You Need Training and Education?
Both working at a job and owning a business sometimes require skills that you don't have yet. But that's okay. You can invest in the training yourself to get your business off the ground. Or you can try to find a work at home job where they will train you if you have little experience but that may mean that the pay is low.
8. What Is Your Biggest Dream for Your Life?
When you think of the future, what do you see? Do you like the idea of working from home and doing work that you have be assigned? Then when you're finished,  you're totally and fully off and you wait for your paycheck to arrive. Or, do you like the idea of being able to do what you want when you want but probably working more hours? It may mean working without the surety of an income each week but you'll know you're forging your own future and controlling your own destiny.
Want To Start A Work At Home Business?
Since 2007 there's been a massive shift to people buying products and services online. There are over 3 billion people with access to the internet and this number is growing everyday. You don't have to be a computer whiz to start your own online business. All you need is access to a computer and the internet. If you want to tap into the millions of products and services that are being bought and sold online everyday this free online business webinar will show you the proven steps for starting a profitable work at home business that you can call your own.