The Ideal Home Based Business For People Over 50
The best home based business for people over 50 may surprise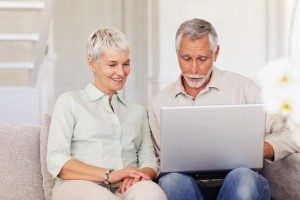 you. After all, most people over 50 probably didn't have computers at school and the internet really only began to gain major prominence in the public eye around 1994, some 22 years ago. So why turn to a business model that uses a computer and the internet?
Many of the baby-boomer generation (those born between 1946 to 1964) have discovered the online world later in their life. Later than perhaps their children or even grand children have. But that's not a barrier to success.
The baby boomer generation is like no other before it or after it. Technically, we are considered middle-aged, but we are anything but middle-aged in mind, body and spirit.  We have seen massive technological advances in a very short period of time and we know that the secret to success is not just about working hard, it's about working smart.
Why Is An Online Business Best Home Based Business For People Over 50?
There Is No Age Limit
There is no age limit or qualification requirements to becoming an internet entrepreneur. Anybody, regardless of their age, background, education or technical skills, can take advantage of the new digital economy that is thriving on the internet.
You Can Learn New Skills
You do not have to be a computer wizard to start an online business. Think of it like when you learnt to drive a car. You can now drive a car, but you don't have to know how the car actually works. You'll be surprised at how much online knowledge you already have. If you can send and email and use a search engine like Google, you have enough knowledge to get started. There are many easy to follow, step-by-step online business courses available.
Low Start Up Costs
An online business is a great home based business for people over 50 because your financial commitment is a lot less than you would have to pay for a traditional bricks-and-mortar business. All you need to get started is a computer and an internet connection. You do not need a physical store or office. There are no rent or rates, no staff costs or endless hours commuting back and forward to a workplace.
Work On It Part Time
Your time is precious and you still will want time to enjoy the things you like doing. You will have to put some hours in to make an online business work, but you can also take advantage of automation. This means that the business is working for you 24 hours a day, 7 days a week. There is no way you can do that with a traditional offline business.
Choose A Market That You Like
You may have a particular skill, knowledge or interest in a business or leisure area. You can use those skills and interests to your advantage with an online business. They will be somebody online who is looking for those skills and is willing to pay for them. And you can be the person who they buy it from.
You Don't Have To Create Your Own Products
Some people over 50 think that they can't start a home based business because they have nothing to sell. Or, they don't want to get involved with buying stock, setting up payment systems or arranging deliveries. You can avoid all of these hassles with an online business. You can sell other people's products on the internet and the product owner holds all the stock and organizes all the payments and deliveries while you earn a commission on everything you sell.
There Are People Buying Online All The Time
There has been a huge shift to people buying products and services online. This surge in spending on the internet instead of in bricks and mortar stores has created an incredible opportunity for online home based businesses. Your customers can come from all over the world, not just from those who live, shop or pass-by the geographical location of your physical premises.
The East Way To Start A Home Based Business For People Over 50
You wouldn't start to travel across the country without a map and it's the same for starting home based businesses. Home based businesses that work have a solid business plan, clear direction and proper guidance and support. They know what they are going to sell, who they are going to sell it to and how they are going to get their products or services into the marketplace. To discover more about how the internet provides the best home based business for people over 50, this Free Online Business Crash Course has been specifically created for individuals who are interested in learning how to become profitable online starting from scratch.