Home Business Ideas for Parents Who Want Some Extra Income
Home business ideas for parents need special considerations. You need to be able to work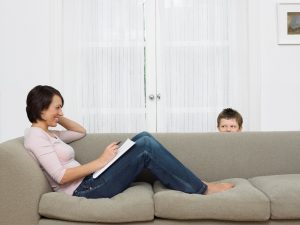 without punching a clock or having to be available at particular hours, otherwise you'll have to get a babysitter. Parents who want to start a work from home business may have special challenges if they don't want to hire help.
But, it's not impossible. In fact here are the top 10 home business ideas for parents that don't require clock punching, or answering to anyone but yourself.
Top 10 Home Business Ideas For Parents
1. Stock Photographer
Stock photography is used in numerous places, from websites and blogs to print ads. The demand is quite high for good and unique photographs to use for these reasons. If you like photography it can be a great home business idea. Most stock photography companies allow independent contractors to upload pictures for sale on their websites. You can also start your own website offering the images for use.
2. Graphic Designer
Designers are needed everywhere; the demand is high. If you're good with using creative software to make webpages, advertisements, banners, book covers (eBook and paper) and more, you can work for many companies at the same time performing these services. While it's deadline based, you can work at any time of the day to get the project completed.
3. Freelance Writer
As a freelance writer there are many different opportunities today based on your skill level. You can write for so-called content mills, individuals looking for writers, as a copywriter writings specific sales copy, or you can write for yourself and publish your own books as PDFs or via Kindle Direct Publishing.
4. Arts and Craft Seller
If you're artsy and like creating art, you can do more than just create. You can sell, and you can make money doing it. Sites like Etsy.com, DeviantArt.com, and Art.com make it easy for individuals to upload pictures of their work to sell. You are responsible for shipping it on time, and you'll give a percentage of sales to the website you list on. You can also start your own website but usually you'll make sales faster working through an established and trusted venue.
Free Checklist & Toolkit: How To Choose Your Online Niche

5. Amazon Seller
Fulfillment by Amazon has started a trend in individuals selling both new and used merchandise through their service. Leaning how to sell on Amazon can take a little time but there are people who are making six plus figures doing it, and you can too. This is something you can do on your own time, with your children in tow.
6. EBay Seller
Selling on eBay is a little harder than the other choices, but many people do it successfully as a full-time job. If you have access to the right products, you can do it too. Again, this is something you can do on your own time. The only thing that might take a lot of work on your part is packing and shipping.
7. Life Coach
You've seen a coach at a football game, but did you know that some people hire "life coaches" to help them with everyday life? Some people need help with parenting skills, whilst others need help getting through a life challenge like divorce. You can become a life coach with no experience. The hardest part is setting up the process, marketing your business, and getting new clients. There are also courses that you can take to help.
8. Lifestyle Blogger
You've likely seen the movie, "Julie & Julia" right? Well, Julie started out as just another blogger, blogging about her adventures cooking from Julia Child's cookbook. She became very popular, sold the rights to her story, and a movie was made. She made money off the deal, of course. Today, bloggers blog about all sorts of things and earn money through advertising, affiliate marketing, and product promotions. You can, too.
9. Herb Gardner
This work-at-home business takes a little time and work, but it's healthy, the children can help, and you can make money from your back yard. You can sell at farmers' markets but you can also sell directly to restaurants if you plan and market right.
10. Online Teacher
People don't want to travel for long distances for a one hour music lesson or a business coaching session. However, the internet makes it simple. Online teaching has become one of the most popular home business ideas for parents over the past few years. If you have specific expertise or skills, you can pass on that knowledge to students from around the world. What's really great is most of the time you can sign on when you want to, from any place with an internet connection to do your job.
Home Business Ideas for Parents Made Real
Working from home is often a parent's dream. You can be near their kids, not have to work by someone else's clock, and still earn enough money to not only pay for needed items but the wanted items as well. But it can be a little overwhelming when you try to start out. Most entrepreneurial parents get stuck on the "building the business" part and never actually turn a profit because by the time they get everything setup properly they usually run out of time and/or money. That's why using a genuine, pre-designed business model and system makes all the difference. This turn-key business system was specially designed to make home business ideas for parents and other men and women a reality so that they can get up and running and making money quickly, easily and without frustration.