Is Your Home Business Website Working For You?
Out there, in the vast global reach of the internet, your home business website can often be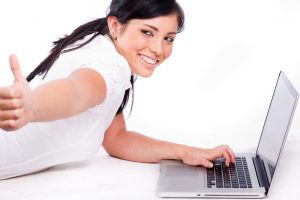 the first contact that a potential customer has with your business. Your website represents your business, your brand, and it also represents the person behind it, which is you. Your home business website is the face of your business, brand and reputation.
It's the silent salesperson, working all day and night to convey the benefits of your products and services. A website can tell a lot about the person behind the business and brand.
Your work from home business has to compete with all the other businesses that are online. Here are 5 ways you can wake up your home business website so that it works harder for you and helps you to achieve your objectives.
5 Ways To Wake Up Your Home Business Website
1. Know The Purpose Of Your Website 
What are the goals of your website to help you achieve home business success. Do you have any? Does each page on your website have a goal? If so, does the goal of the page also support your ultimate website goal? Your website goals might include:
To sell a product
To sell a service
To motivate an opt-in
To inspire a visitor to click on an affiliate advertisement
To provide information and receive ad exposure and PPC income
Any single website page may also have these same goals. They may also be designed to help you achieve other independent goals. For example, one web page may be designed to promote your opt-in offer and other to sell a product.
2. Create Your Website From Your Visitor's Point Of View
When somebody visits your website, you only have a few seconds to convince them to stay. When they land on your homepage they should instantly see a headline, sub-headline and a few lines of text that explains how your product or service can solve your customers' problems or improve their current situation. Make sure that you have the right content and tools on your home business website that will help or convince them to accomplish your goals. For example, if you want them to sign up to your email list to generate home business leads, do you have an opt-in form on your home page and what are you offering in return for their email address?
3. Put A Video On Your Home Page
Internet users love videos. Only 20% of visitors actually read the text on a website whereas 80% of visitors will watch the same content in video format. Videos can be simple to produce and you probably have everything you need already installed on your computer to enable you to put a short video on your homepage. A visitor's curiosity will be drawn to watch the video to see what it is about. Remember to make sure that your video is relevant to the text on the webpage.
4. Is Your Home Business Website is Mobile Friendly?
More than half of all online business searches begin on mobile devices like smartphones or tablets. If your home business website is not mobile friendly (known as having a responsive design) it means that it will not automatically adapt its layout and format when being viewed on different devices. People who visit your website via a smartphone or tablet will have difficulty viewing your website and will most likely abandon your website very quickly.
Click here to see if your website is 'mobile friendly'.
5. Cast A Spell (Check)
If your home business website is filled with constant grammatical and spelling errors, it's not going to help you prove that you're a legitimate work from home business. If your customers don't think that you care about your website content, they're going to think that you won't really care that much about them. We are all human and having an occasional spelling or grammatical error once in a while is not the end of the world. But making the same mistakes on nearly every single line of text or to the point people can't make sense of what you are trying to say, then that is definitely negligence. With the ease of use and availability of spell-checking tools now for every type of work from home business, it's simply no excuse to keep making spelling errors anymore.
Step-By-Step Tutorials To Help Your Home Business Website
The WordPress website platform is recognized as a the best system to start a home business website today. It's very easy to use and powers more than a quarter of all the world's websites. It offers anyone the opportunity to build a website quickly and easily even if they have absolutely no knowledge of web programming or have never built a website before. If you've ever struggled using WordPress or you find yourself wasting hours or even days trying to figure it all out on your own then the Know WP Video Course can help you. These easy to follow step-by-step tutorials provide you with everything you need to know on setting up and running your home business website so that it becomes a lean, mean marketing machine!