How Do You Begin Affiliate Marketing?
A lot of people begin affiliate marketing as they see it as an easy way to make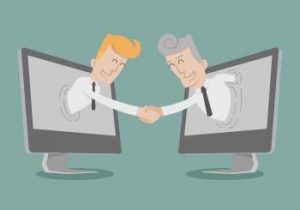 money online. Affiliate marketing does offer an amazing opportunity for both the new and the seasoned Internet marketer alike. But it's not a way to start from nothing and 'get rich quick'. There are certain steps and procedures that you need to take if you want to see any return on your efforts.
So firstly, what is an affiliate marketer? An affiliate marketer is somebody who generates targeted traffic to a particular website selling a product for which they get a commission on each and every sale. An affiliate marketer doesn't own the product. Their job is to come up with creative ways to connect a prospective customer to the website that is selling the product.
Let's take a look at how to begin affiliate marketing.
How To Begin Affiliate Marketing
Let's say you've decided to begin affiliate marketing and you want to sell a weight loss information product. You first task is to find the right product to sell. To do this, you need to find affiliate marketing websites that sell weight loss products. There are many online marketplaces with products that you can sell.
These include, ClickBank, CJ Affiliate PayDotCom.com, JVZoo, Share-a-Sale and Amazon 
The affiliate marketplace websites will have a choice of maybe a dozen different products to sell and you pick the weight loss products whose sales page and statistics prove it converts well. You then request your own unique weblink URL to the product sales pages (sometimes called a 'hop link') and you use use this link to drive prospective customers to the sales page. You're now ready to begin affiliate marketing.
This weblink is unique to you and you can use it in your online advertising, articles, YouTube videos, banner ads, blog posts etc which all encourage viewers to click on the link.  When prospects click through to the sales page and buy it, you get an affiliate commission, usually 50-80% of the price of the product. The product owner takes care of delivery, payment systems and after sales queries.
What Can You Sell When You Begin Affiliate Marketing? 
Just about anything you can think of is available through an affiliate program, including:
Thousands of eBooks and e-courses on hundreds of different subjects
Software
Internet services like autoresponders, keyword tools and hosting companies
Membership sites
Video rental (think Netflix)
Tangible books, videos and music
Electronics and computers
Health and beauty items…and more
FREE Checklist: Affiliate Marketing For Beginners

Can You Really Make Money With Affiliate Marketing?
Affiliate marketing has great profit potential. Think about it this way: everything is already set up for you – a great product with enormous profit potential. The customer gets what they want – convenient shopping – and you get what you want – a commission for leading them to the sale.
There are literally hundreds of top selling  products available for you to sell when you begin affiliate marketing. All you have to do is pick one and find a way to promote it.  While affiliate marketing does offer a shorter sales process for you, there are still some things you need to know before start to drive traffic to sales pages to get decent conversions.
Why You Need Need To Learn Affiliate Marketing Skills
Once you begin affiliate marketing, you need to know how to pick products. This is when affiliate marketing for beginners can be challenging so you'll need to do some homework. That involves deciding on the niche you want to work in. To start with, pick one that interests you and then research where to find the product or service that you want to promote within that niche.
A good affiliate marketer knows his or her market – and part of the way they get to know them is through visiting the niche forums and paying attention to the questions that keep coming up. They'll see what problems people are facing and what solutions they are looking for.
How to Make Money with Affiliate Links
Once you've chosen a product that will help your audience solve a problem or make their life easier, you need to be signed up in the affiliate program. Then you need to get targeted customer traffic to the affiliate sales page. This is done using free traffic methods or paid traffic methods.
If you begin affiliate marketing for products or services that ideally lend themselves to ongoing sales, like weight loss, dating, make money online, etc., you'll certainly want to set up an email capture page (or squeeze page). This will involve you getting an autoresponder service like AWeber set up.
Begin Affiliate Marketing With This Free Training Video
Now you know how to start affiliate marketing you can see it's the easiest way of getting your own internet business off the ground. You don't have to worry about creating products, sorting payment systems, organizing delivery, customer support or any of that stuff. All you have to do is send traffic to an offer and then you get paid a commission every time someone buys through your affiliate link. If you want to learn more on how to start affiliate marketing or improve your current results this Free Affiliate Marketing Training Video shows how you can win the online battle and make a real profit from affiliate marketing.