How To Make Money Online
The way how to make money online without your own products or services is to sell other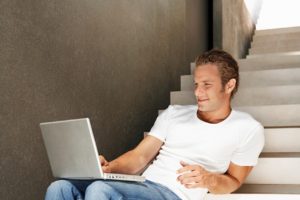 people's products or services and get paid a commission for doing it. This business model is called affiliate marketing and is a very popular way for online entrepreneurs to make money from home.
As an affiliate marketer, you can sell digital products, tangible products, or both. Digital products include eBooks, video courses and membership sites that can be used online or downloaded directly to the customer's computer. A tangible product is something that is physically delivered to the customers address.
So where do you start?
How To Make Money Online With Affiliate Marketing  
Affiliate marketing is great way to learn how to make money online because there is a huge variety of different business markets that you can get involved in. You don't have to buy any stock, organise any deliveries or get involved with any customer queries. The product owner does all of this. Your job is to find the customers and promote the products to them.
Your first step is to decide what market you want to sell to. If always helps if you get involved with a market that interests you. So, if you cannot stand gardening, don't go into the gardening market when you get started as you'll find it very difficult to get motivated about a product or service which does not appeal to you.
If you want to sell tangible products, you can become an affiliate for websites such as Amazon, CJ Affiliate and Share-a-Sale. If you're going to sell digital products, the most well known websites to find these products are ClickBank, JVZoo or Warrior Plus.
Selling both digital and tangible products are great ways to make money online. When you have decided what you want to sell, you join your chosen product's affiliate program (which is usually free to join) and you will given a unique affiliate URL link to the product owner's website. This is the link that you give to potential customers when you promote the products. Any sales made via your link will be tracked back to you and you'll get paid a commission on the sale.
To Make Money From Home You Need Customers
When learning about how to make money online from the comfort of your own home,  the biggest challenge is getting a steady flow of buying customers to visit your website or to click on your affiliate link.  There are many methods you can use to get customers so that you can make money from home by only using a computer. Some methods are free and some can be quite expensive if not done correctly. For more information, check out 10 Fundamentals For Free Website Traffic and 7 Things That Matter When You Buy Targeted Website Traffic.
As a marketer, you'll have to decide what types of products you want to promote. You can promote high ticket items with large commissions, or promote items that have lower commissions, but will sell at a higher volume. As long as you promote quality digital or tangible products that will impact your consumers positively, your income potential is unlimited.
Bear in mind that when you start to make money from home with affiliate marketing, you won't have a huge volume of sales on your first day. It will take time to grow a reasonable income. The principal of how to make money online comes down to dedication, thoughtful research, and building a relationship with your customers. The sky is truly the limit. As an affiliate marketer, you can make money from home as long as you have a computer and an internet connection. There is the potential to generate a healthy income when you choose the right niche, stay committed, and understand your audience.
How To Make Money Online With Your Own Business
Regardless of your age, education, technical skills or qualifications there are no specific requirements if you want to make money from home. However, no mater what online jobs you consider, making money on the internet does require a solid business model, clear direction, training and support. To discover more about the world's first digital marketing academy, specifically aimed at teaching entrepreneurs how to make money online, check out this FREE Online Business Video Training Series..