If you currently have a business that is mostly offline and you sell a product or a service, you can shift to an online business model so that you make more of your profits online.
When you switch to more online profits, you may need to adjust how you target your audience. Those people who like coming to your store might not be the right people to encourage to buy online. Instead, target people who don't live nearby. Knowing who your customers are, their values, and where to find them online will help.
Here are 7 steps to consider when you put your business online.
7 Steps To Put Your Business Online
1. Get Your Website Set Up
You need a secure eCommerce website to sell online. The WordPress platform is the most popular and free method of building a website. It's also very easy to use and offers anyone the opportunity to build a website quickly and easily with absolutely no knowledge of web programming required.
Your website will need a domain name and hosting. The domain is the name of your website (eg, yourbusiness.com).  Website hosting is how you 'rent' space on the internet. Think of your domain name being like a postal address and your website hosting is like the rent of a building where you operate your online business from.
You can also see if your products work with Amazon FBA (Fulfilment by Amazon), which is a program where you send the products to Amazon and they handle the payments and shipping. This is not feasible for everyone due to the fees but for some types of products it works well.
2. Figure Out Payment Methods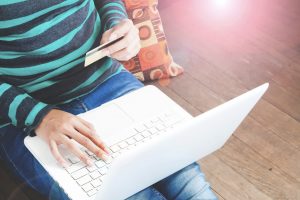 Many online business owners successfully only take PayPal.com because this service allows people to pay with any type of bank or credit account that they connect with their PayPal account. The more options and ways you give customers to buy from you, the easier it is to sell your products or services online.
3. Work Out Shipping Issues
The type of products you sell is very important when it comes to selling them online. You can sell digital products or physical products. Digital products are informational in nature and usually provide instant access when purchased. They can be in the format of ebooks, audio or video courses, newsletters, software or access to membership websites.
Physical products are delivered to your customer's front door.  If they're too big or heavy it might be harder to work out shipping issues, but it's not impossible. Many furniture companies do very well even while offering free shipping. You just need to work out the logistics with the company you choose to use.
4. Determine Your Return Policy
In the store, returns are different from online returns. If it's a physical product you may need to decide how you'll get the product back – whether you'll offer that for free, have a restocking fee, or other actions for returns.
5. Identify New Revenue Sources
Now that you are going to sell products online, what other types of products or services can you add to your offerings for online customers? Perhaps you want to add digital products and services but also some physical products, keeping in mind their size, shipping costs, and so forth.
You can also sell products as an affiliate marketer. This is where products have been pre-made by somebody else and you earn commissions on everything you sell.
6. Set Up Online Customer Service Options
Don't forget that you'll need to service online customers too. Online customers prefer to look at an FAQ and try some self-help options such as a ticket system before calling, but you'll need a number too.
7. Start Marketing and Advertising
Nothing is ever done without marketing and advertising.  If you don't do it, no one will ever find you. There are many low-budget marketing techniques that you can use to get your business in front of your potential customers. Set up a blog, create some free guides, start an email list. Get a Facebook page and Twitter page, and set up any social media that your audience might use. Use Facebook to run a retargeting campaign for your site visitors.
Learn More: On-Demand Internet Marketing Workshops
More and more people are waking up to the fact that developing a set of strong digital skills is one of the most impactful things you can do to create a secure future. With some basic website and online marketing skills along with a little maintenance know-how, almost anyone can launch a business online and get it up and running in only days.
To learn more about internet marketing, check out these free On-Demand Online Workshops to help you start, grow, and scale your income by developing a recession-proof skillset and leveraging the power of the internet