How Do You Identify Your Target Market?
Before you start spending time, effort and money on any type of marketing or advertising, you should be able to clearly identify your target market. These are the people that will have a genuine interest and need for your products and services. Any extra information that you have about them will help to make your advertising strategies more effective.

Regardless of how good your products or services might be, they won't appeal to everyone. If you try to get your messages to wide, undefined audience,  you'll spend money that you don't really need to spend, and you won't even get much back from it either. Here are 4 of the things you should know when marketing to a specific audience. Without this information, you'll struggle to really appeal to the audience that you're trying to target and sell your items to.
4 Identifying Target Market Questions
1. Who Are They?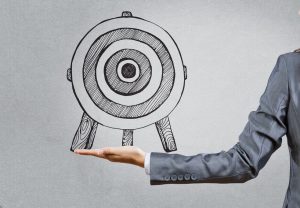 First things first. Who are you trying to appeal to? Do you know your target audience age group?Are they middle-aged men or young women? Where do they live and what language do they speak? Are you trying to appeal to parents or are you targeting single people and dog owners?These are the first steps to discovering what your 'voice' is going to be.
This is a very important stage and it will also force you to consider a much broader range of questions for your business and marketing in general. Of course, when you identify your target market, not everyone will be the same age or live in the same place, etc., but having an ideal or an average in mind will help you tailor your language and your messages to attract the right kind of person.
FREE Checklist: Get Your Brand Noticed By Your Target Market

2. How Much Do They Earn?
Are you targeting people who earn high amounts of money? This will mainly depend on your product or service, but if you're selling something expensive, you shouldn't set up your shop in a little town and attempt to target all the low-income families and low earners. The earnings potential of your target market will inform how and where you advertise, how you price your products and how you position them in the market.
If your products are more expensive, you won't be selling based on price. You'll be selling them more on the benefits you can bring the customer (and vice versa). You'll need your brand to appear classy, expensive and upmarket, to ensure that your branding matches your prices so that you don't run the risk of looking tacky and cheap while trying to look posh and expensive.
3. What Is Important To Them?
Understanding your target market and knowing what matters to them can boost your business and sales in so many ways. Firstly, you can use their values in all of your marketing communications to establish your brand voice. You can include things that matter to them in your sales copy and website content so that they feel connected to you and your brand. Secondly, you can use what matters to them to think about potential problems they might have, and how your products or services can help them solve those problems.
Decide how you're going to advertise to your audience. Do you want people to feel like they need your product or service? Do you want people to feel empowered through your business or inspired and motivated? Think about the brand voices that you like and decide whether you want to copy or imitate any of these. Are there any brands that you hate and would like to avoid being anything like? Make a list of the brands you like and the reasons why you like them. Without copying exactly the same, think about what your brand could do to achieve those.
4. What Are Their Interests?
Similarly to the above, understanding the interests of your target market is another way to help tailor the content you create to forge a deeper connection with your customers. It may also help you come up with good places to advertise.
Start a Facebook group to learn and discuss what your customers and prospects think about your brand or potential ideas for your brand. Initially, this can be just a few of your closest friends or family members, but eventually, it should consist of your initial clients and customers. Be open to ideas and criticisms. Ask them what their initial thoughts are when you explain your brand, as this could help you to develop the right voice and offer the right products or services.
Free Checklist: Identify Your Target Market So They Notice Your Brand
When you're trying to identify your target market, it's easy to forget the value of your brand. Branding is important for small businesses as well as large companies. If you have a limited budget, smart branding is perhaps the most inexpensive business tool you can create. Download my Free Checklist, How To Define Your Target Market With Branding to help your business the reach your prospects and provide a positively memorable experience related to what you have to offer.