Simple (But Important) Things To Remember When You Begin Affiliate Marketing
Many people begin affiliate marketing when they first step into the online business world.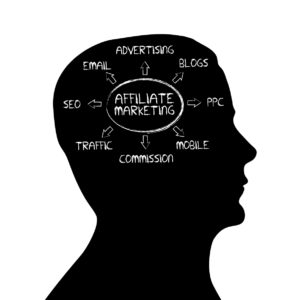 Internet affiliate marketing is where you promote someone else's products or services in exchange for a commission.
You don't have to worry about creating products, sorting payment systems, organizing delivery, customer support or any of that stuff. Your job is to direct potential customer traffic to a product or service that is for sale online via an unique affiliate link that has been assigned to you. The product owner will pay you a commission every time someone buys via your affiliate link.
Some people get lured in by the promise of making money without doing any work, but to be a true "super affiliate" does involve time, resources and work. Selling products or services with online affiliate income programs is a legitimate online business and like any other business, it does involve work. So how to do get on the right track when you begin affiliate marketing?
7 Key Things To Remember When You Begin Affiliate Marketing
1. Pick A Niche You're Interested In 
When you begin affiliate marketing it can be tempting to look for any product to promote in any niche, just so long as it pays out big commissions. The downside of this strategy is that it will be very difficult to build up a customer base (see point #2 below) and you may have very little experience or knowledge in that niche. There are affiliate opportunities in just about every niche you can think of. So start with one that you're interested in and that you'll be happy to be involved with 365 days a year.
2. Start Building A List From Day 1
Every successful affiliate marketer will have a list of prospects and customers. This list is a database of people who have willingly provided their name and email address to the affiliate marketer. The marketer can then send emails about the products and services that they are promoting to that list. However, email marketing is a skill that every affiliate online needs to master. If you continually blast out sales messages, your emails will become boring and unopened. Which leads us onto point #3.
3. Think Of It As 'Telling' Rather Than 'Selling'
As you build your database list, think of ways to help your audience to achieve their goals or find the solutions they need. That will be done through your advice and sharing of information, but it will also be done by you being their steward and helping them navigate the products that are out there. Build a relationship with your audience so that they come know, like and trust you.
FREE Affiliate Marketing Course: How To Start A Profitable Online Business

4. Will You Sell Physical Or Digital Products (Or Both)?  
When you don't have to be the one creating products, it lessens much of the burden. But you still have to decide what you should promote. Much of that decision will depend on what niche you choose to be a part of. Some will give you more opportunities than others. There are tangible and digital products for you to promote. You can promote tangible items from Amazon.com that will get delivered to the customer's front door. Or, websites like ClickBank or JVZoo that have a huge selection of affiliate marketing companies providing digital products that a customer can download instantly to their computer.
5. Where Will You Promote Your Affiliate Offers
You can promote your affiliate offers in many places but primarily your own website is best. Here you can share  information and your affiliate hyperlink with your target audience. You will to drive traffic to your website and this can be done via free or paid traffic strategies. Also, you can send emails to your database about your affiliate products. The important thing isn't so much where you promote the items, but how (see point #3).
6. Know How Much Commission You'll Earn And When You'll be Paid 
There are affiliate programs that pay commissions extremely fast and very slow. Watch for this little detail to ensure you're not setting yourself up to meet a certain sales requirement that will take you a long time to achieve. Many affiliate programs have a system where all money initially goes to them, and they pay you on a schedule, like once or twice a month or once you hit a certain amount (like $100). Some systems will require you to have a PayPal account, and some will be willing to mail you a cheque or do a direct deposit into your bank for you. You'll also need to fill out a W2 form in some cases, depending on where you live and what your business status is.
7. Be Wiling To Learn New Skills
When you begin affiliate marketing it's an exciting time. The internet is a thriving marketplace and you can reach customers from all over the world. The temptation can be to dive in head first without any real strategy or plan. But you would not start a new job in the traditional offline world without somebody 'showing you the ropes', and your affiliate marketing business should not be any different. When you learn how to start affiliate marketing in the right way it can set up up for a successful and profitable online adventure.
Free Training To Help You Begin Affiliate Marketing
Affiliate marketing programs provide the easiest way of getting your own internet business off the ground. You don't need to go the time, trouble and expense of creating your own product and the product owner takes care of the payments, customer queries and product delivery. But it's certainly worth taking the time to learn affiliate marketing, how to do it properly and effectively if you want to make money and not lose money. Check out this Free Affiliate Marketing Training which show you how to start a profitable online business when you begin affiliate marketing.