7 Handy Internet Business Tools
OK, so I'm not really the Easter Bunny but I've got some handy internet business tools for you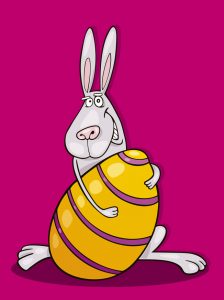 so you don't have to go searching all over the web to find them. Easter isn't the big gift giving occasion like Christmas but it's still regarded as the start of the spring buying season.
Your potential customers are out there and the more tools and resources you have, the more reach, impact, leads and sales you'll get.
These internet business tools below will help your online business not only over Easter, but for years to come. Best of all, they are all free.
7 Free Online Marketing Tools For Small Business
1. Social Media Scheduling Made Easy
Do you struggle to keep your social media accounts up to date with fresh content? Buffer is informative social media marketing blog and social media posting application.  It allows you to schedule and share your social media content so that your followers and fans see your updates more often. You can use it to schedule content in advance for Facebook, Twitter, LinkedIn, Google+, Pinterest and Instagram. You can post the same message to all accounts at the same time or add context by customizing each one. It also tells you when your followers are most active on social media so you can schedule your posts to get maximum impact and exposure.
Click here to get your free version of Buffer
2. Boost Engagement And Clicks To Your Website 
Are your blog posts not getting the attention and traffic they deserve? This tool, called Missinglett_r, is one of the best tools for small business owners because it boosts engagement to your content on autopilot. It automatically turns each of your blog posts into a year's worth of social media updates, pre-filled with quotes, hashtags and images. All you have to do is review the suggestions and click approve. Then Missinglett_r will send the content out to your social accounts increasing engagement and clickbacks to your site. No more forgetting to keep on top of your blog's marketing. Missinglett_r does it all for you, automatically. Try out the free plan to link your website to one social profile.
Click here to get your free version of Missinglett_r
3. YouTube SEO Cheat Sheet For Ranking Videos
Just about everyone is talking about video marketing these days. This YouTube SEO Cheat Sheet is jam packed with a ton of simple and actionable tricks you can implement immediately to boost your rankings with video. It reveals a proven formula for writing video titles that get clicks. It also shows you the 3 tags your video must have to maximize video traffic potential, the single biggest factor that impacts video rankings and 7 simple tricks for generating natural inbound links. I love it!  If you want to drive traffic with video, this YouTube SEO Cheat Sheet can really help you out.
Click here to download your free Video SEO Cheat Sheet
4. Keyword Research Software Package

If you want to get your website at the top of the search engine rankings then you need some search engine optimization (SEO) software. With the right SEO software in place, the search engines will direct organic (unpaid) traffic to your website. But the majority of online marketers fail to rank in the search engines because they violate one or more of the 4 unbreakable rules of search engine optimization. You can discover these 4 golden rules and download one of the best internet business tools around completely free. It's called Market Samurai and is the only keyword research software tool you'll ever need.
Click here to download your free copy of Market Samurai.
5. Shrink, Cloak, Redirect, Track, Organize And Share All Of Your Links 
If you're not tracking the URL links in your online marketing campaigns how do you know how many people clicked on a link? Are your links sometimes way too long and wouldn't they look better if they were shorter and neater?  Also, if you're selling products and services via affiliate marketing, wouldn't it be great to have all your links in one place? And did you know that crooked affiliate marketers can switch out your raw affiliate link and replace it with their own? You can clean up and cloak your affiliate links using your own domain in just seconds with TidyURL.net. This free and handy plugin for WordPress allows you to shrink, cloak, redirect, track, organize and share all of your links on your own domain and server!
Click here to download your copy of TidyURL.net
6. Customize Your YouTube Videos 
YouTube has over a billion users. That's almost one-third of all people on the internet. People watch hundreds of millions of hours on YouTube every day. Video should be one of the internet business tools that use on a regular basis. But when you embed a video from YouTube onto your website you are limited in what you can do. With this Free YourTube Player app you can easily style and customize your YouTube videos. Add custom backgrounds, borders, change the title colours and margins, add title text and change the player fonts. Set videos your website to autoplay, stop people from skipping through your videos or hide the progress bar. You can even select a custom video start point. You control everything.
Click here to download your copy of YourTube Payer. 
7. Increase Leads And Followers 
One of the most important internet marketing strategies is list building. This is the process of getting the emails of prospective customers, or leads, onto your database so that you remain in contact with them via email. You can increase your lead generation with the completely free MyLeadBar that integrates with your WordPress website. It's easy to customize the look and feel of the bar using a simple editor to change the colour and fonts to match your website. You can also add links to your social media sites and link to directly to any landing page of your choice to increase your subscribers.
Click here to download your copy of MyLeadBar
Bonus 'Crash Course': Proven Steps For Running A Profitable Online Business 
If you're interested in learning how to become profitable online starting from scratch or are unsure of how to get started then this is for you. This free online business webinar from internet pro Stuart Ross, provides a 'crash course' on how to do internet marketing and run profitable online business. You'll see how you can grow income streams by using the right business models with the right internet business tools.
Click here to get free access to the online business webinar.