7 Internet Marketing Mistakes To Avoid
Internet marketing mistakes are easy to make when you start out online. When I started my own online business a few years ago, my focus was just trying to selling stuff. If I had a website, people would just come and buy from it, right? Wrong.
I soon learned that the correct internet marketing techniques have a widespread impact on the online performance of both major brands, as well as small, online businesses like mine. Internet marketing involves a specific set of skills and methods that when used correctly can produce results for any online business venture.
Here are the top 7 internet marketing mistakes that I made when I started out.
7 Internet Marketing Mistakes I Made Without Realizing It
1. No Attention To My Content 
It's certainly true that the more content a website has, the more opportunities there is to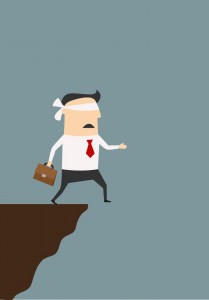 increase traffic from the search engines. But one of the first internet marketing mistakes I made was filling up my website with lots of rubbish content that was full of waffle and provided no real value. Website content should always be informative, fresh and above all unique. Visitors will only come back to your website when your content is updated regularly, provides value and helps to solve their problems or make their life easier. Over and over again the quality of content has played a decisive role in generating website traffic across all niches and industries.
2. Ignoring Search Engine Optimization 
I thought that search engine optimization (SEO) would be way too technical and complicated for me when I started my online business. So I ignored it. But about 92% of web searches go to websites that are on the first page of search results. Search engine rankings play an important role in directing traffic to any website. And you don't have to be a SEO expert to optimize your website so that it gets seen and noticed by the search engines.
There are some basic SEO techniques that you can put in place straight away to help your search engine rankings. For example, publishing fresh content on a regular basis, using your keywords in your page titles and headings, using images and videos on your web pages and proper keyword density without over optimization are all essential elements of SEO.
3. Not Providing Enough Value 
I hope that you will find this article useful and of value to your online business. When I started out, another of my internet marketing mistakes was just trying to 'sell, sell, sell'. But I can to realize that online business starts with 'tell, tell, tell'. People will only buy from people that they know, like and trust. So when you provide useful and valuable information it helps to establish a relationship with your prospects.
Apart from being informative, a good online business will go above and beyond what is typically expected on their websites or social media pages. This increases the opportunity to really connect with your target audience. When you provide good value, it establishes trust with your audience, boosts the popularity of your business and makes people more likely to buy from you.
FREE Checklist: Get More Free Website Traffic

4. Forgetting Social Media 
Did I really need to bother about social media when I started my online business? After all, I had a website – wasn't that enough? But this is one of the big internet marketing mistakes that a lot of new and established online entrepreneurs make. Social media plays a significant role for every online business today. More than 72% of web users are active on various social media platforms.
The main reason I now use social media platforms is that these sites have high traffic and membership stats that allow me to engage and communicate with a large and specific global audience. It's also a fact that 33% of consumers use social media to find new brands and products online. Please come and say hello on Facebook or Twitter!
5. Not Considering Mobile 
My first website was unresponsive. That meant that if people viewed it on a mobile or tablet device it was not very easy to read or to navigate. Did that matter? After all, don't most people use a desk top computer to browse the web? Nope, not any more. About two-thirds of cell phone users today are using smartphone devices to find information on the web. One of the biggest marketing mistakes today is trying to market online without considering the mobile sector. Mobile friendly website designs and mobile advertising are important aspects to implement within any online campaign. And, really, without a mobile friendly site you can lose out on a massive chunk of traffic. Is your website mobile friendly? Click here to find out.
6. Not Doing Any Video Marketing
When I started my online business, I watched and learned a lot from the videos of other online marketers. But the thought of me doing a video did not even cross my mind. Soon I realized that many website visitors like to watch videos that explain the products and services on your website. In fact, statistics show that sales pages that have video convert 80% better than those that do not. A video tells a story in a visual way and will bring higher conversion rates with audiences than text alone. And video marketing is really quite simple.
Submitting relevant videos to sites like YouTube, Vimeo and other video sharing sites is a internet marketing strategy that can't be ignored. Videos can grow and your boost online presence. Click here to check out my YouTube Channel.
7. Not Focusing On Building A List From Day One
This is one of the classic internet marketing mistakes. I thought I could just send people to a sales page and they would buy. Why did I need to email them? But people will only buy when they are ready to buy, not when you're ready to sell. Building a list of people who are interested in your products or services is essential for any online business. A list is a database of email addresses that you can contact at any time to keep your prospects updated about your business. But there are email marketing mistakes to look out for. You still have to provide value in your emails. Effective email marketing makes all the difference to the success of an online business.
How I Learned To Resolve My Internet Marketing Mistakes
The thing I love about the internet is that regardless of your age, education, technical skills or qualifications, there are no specific requirements for being a successful online entrepreneur. However you will be more successful with a solid business model, clear direction, training and support. This is the exact Online Business Startup Bundle that helped me resolve my internet marketing mistakes. It's completely free and is designed to help both new and experienced online entrepreneurs to set set up and run and profitable online business.