Effective Landing Page Design
Your landing page design is important. It can make the difference between somebody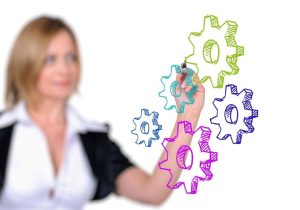 buying from your online business or going away and never coming back. So what is a website landing page?
Quite often it's the page that most visitors come to first. It's the page you may generate links to. It may also be the page that the search engines pay the most attention to. Therefore, it makes sense to make sure your landing page design is as effective as possible.
The best landing pages have 7 key elements. They each are important independently, but they work together to provide a unique and effective landing page design.
7 Key Elements For A Successful Landing Page Design
1. What is The Goal of Your Landing Page?
You must know what your objective is for your landing page. What do you want visitors to do? What action do you want them to take? For example, do you want them to explore more of your website, click through to a sales page or opt-in to your email list? Once you know what you want visitors to do, then you can make sure your landing page design meets that goal.
2. The Headline
All the best landing pages have a headline that grabs the attention of the reader. It's generally the very first thing a visitor will see and if the headline doesn't get noticed, then it's not doing its job. However, in addition to grabbing attention, your headline also must support the goal of your landing page. The headline is an important element to test and track. Create two landing pages with two different headlines. Determine which headline is better at helping you accomplish your goal for the page.
3. Your Images 
If you use images in your landing page design make sure they support your goal.  Images in the form of graphics and photos can really can enhance a landing page but, if used incorrectly, they can overwhelm a landing page and become a distraction.  A common image to use might be your photo. This helps connect the reader to you, brand your business and build a relationship.
4. What Emotion Will Visitors Feel When They See Your Landing Page?
Emotions are what people use to make buying decisions. People buy on emotion and rationalize with logic. Feelings of fear, hope, envy, pride or desire are incredibly important if you're trying to motivate any action. Tap into your visitors' emotions with your images and words.
5. Customer Reassurance 
You might notice that many elements of the best landing pages are also sales copy elements. Your landing page visitors need reassurance that they're making the right decision when they take the action you are asking them to do. Reassurance can be demonstrated by showing awards, testimonials, endorsements, organization membership and facts and statistics. The reassurance you use depends on your goal. For example, if you want to motivate a sale, then you might use facts and statistics along with a testimonials from satisfied customers. This gives you credibility.
6. Call To Action
Make sure that your visitor not only knows what they're supposed to do on your landing page, but also that they can quickly figure out how to do it.  A call to action is required for every successful landing page. It's the only way your readers know what they're supposed to do next. If it's not obvious what they need to do on the page to get what they want, they're going to leave.
7.  Opt-in form
Finally, if your goal is to motivate an opt-in, then your landing page design must obviously include  an opt-in form. In fact, everything on that page needs to emphasize the benefits entering their email address into the opt-in form.
The Easy Way To Create A Landing Page Design
Your landing pages are perhaps the most important pages in your online business. Make sure the elements on your page support your goals and your success. The best landing pages are professional looking with unique backgrounds, text, videos or images that are appeal to their target audience. Creating a successful landing page once required high skill levels in design and programming. But now you can easily create your own professional looking landing page design using easy to edit templates that allow you to upload your own background, add your own text and insert videos or images. Choose a template, add your text, publish your landing page and start building your list! Start your Free Trial here and make your landing page design stand out from the crowd and get results.