Does Link Building For Your Website Still Matter?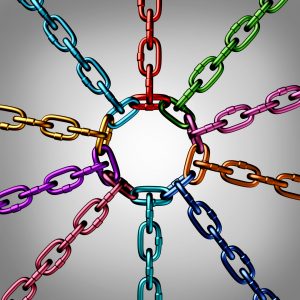 Link building for your website has always been an important factor for it to rank well in the search engines. Links back to your website provide strong signals that your site is relevant and popular.
In the past this was used by marketers to build hundreds and even thousands of backlinks. They had some results, but they were short lived. In 2012, Google released its Penguin algorithm update. It was designed to stop websites spamming their search results. In particular, those websites which were buying links or getting them through free link building sites designed to boost their Google rankings.

So does this mean that link building for your website is all but dead today? Far from it!
Don't Ignore Link Building For Your Website
Link building techniques for your website should never be ignored. Search engines view backlinks as an indication of the popularity and value of the content on a website. Links to a website are still strong signals and it allows the search engines to find your site and index it. Internal links also provide navigation within the site.
The emphasis for any website owner is now to create quality content and then build links to that from other relevant high-quality sites. Natural link profiles win over spammy ones.
It can be said that, when it comes to link building, less is more. Ten high-quality relevant links to high quality content is far more valuable than 1000 blog comment links. Links from low quality websites do nothing the help your rankings. They can even lead to your business being penalized if it's done wrong.
How To Do Link Building With Content
Generally, increasing the number of backlinks pointing to your website will improve your website's search ranking. The best links come from truly legitimate websites, especially educational or news related sites. But, websites that have been around a long time and have a big audience work too. To get more links, contact authoritative websites or blogs to see if you can provide a guest post or article. That post or article will contain a link back to your website.
It's much easier to build links to your site when you have high-quality content. Remember that without good content your online business has no value to your audience. Create it for a human audience rather than a search engine robot by stuffing keywords into blogs and articles. One important factor is that any content posted is unique. It doesn't have to be a literary masterpiece, but it should be relevant and interesting.
What Kind Of Content Is Good?
Content can be read, watched, listened to and shared. It can be an article, a blog post, a report, an ebook, an online course, a video or an audio. The best kind of content is that which is classed as 'evergreen'. This means that the information presented doesn't go out of date, so in years to come it's still relevant. That means you'll still have content on your site that's worth linking to.
People love getting solutions to their problems or issues. Some great themes for evergreen content include:
How to …
FAQ on …
10 tips to …
5 ways to …
How to get rid of …
These types of articles and blog posts will entice others to link back to you. Remember that Google wants content on the internet to be unique. Google has stated on its Webmasters Guidelines that unique, relevant content should naturally gain popularity. The more useful type of content you post, then the higher the chances that someone will find it and link to it.
FREE REPORT: How To Write Content For An Online Audience

Good Content Encourages Links From Social Media

Social media continues to play an even greater role in internet marketing. All businesses realize that they should have social media profiles on all the major platforms. But are these valid link building strategies?
It's true that Google still relies on 'traditional links', that is, links from other authority sites. We're now seeing a shift towards Google and Bing taking more of an interest on what's happening on social media. We can only expect that this trend will continue and that links from social media sites will play an even greater role in search rankings.
What social media links are great for is to reach your real live customers. This is a way to drive traffic back to your site without having to worry about what Google or Bing does. Once again, content is king. If you continually produce high-quality content, your followers on Facebook, Twitter, Instagram and Google+ will share these posts, comment on them and vote for them.  You may have noticed Pinterest showing up more frequently the last couple of years in Google search results. This is no accident. Google has noticed the massive growth that Pinterest has enjoyed recently.
When you post something on your blog, someone else's blog, or have any type of news about your business, share it to social media. Optimize the share for each network and share as many times as is common with that network using a different text each time.
Need Help Creating Content For Your Website?
Link building for your website continues to play an important role in ranking on the search engines. The emphasis is now on creating quality content that visitors and other industry leaders will naturally want to link to. But creating content can take a lot of time and research. That's why many online business owners use quality content writing services, also known as Private Label Rights (PLR). Whatever your niche or industry, PLR provides a high quality pre-written content writing service that you can use and edit in any way you want. You can even put your name on it as the author. This free starter pack of PLR Reports, Articles and Videos will help you to quickly and easily provide great content to your audience and boost the link building for your website.