Why Email List Building Is Important For Your Online Business
If you're serious about building an online business or making money online, you need to get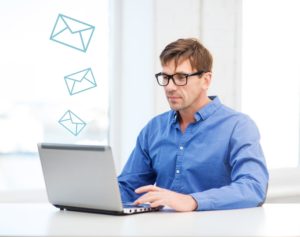 serious about list building. Anyone who has been involved with an online business, for even a short time, will know that the everybody says that "the money is in the list".
And this is true.
Having your own email list building of prospective and buying customers is key to the success of your online business.  The vast majority of people who succeed online long-term have email list building strategies.
The primary reason for list building is to make money by selling things. That might be through affiliate marketing or by selling your own products or services. But having a big list of customers and continually bombarding them with offers or promotions will get you nowhere.  You need to build a relationship with the people on your list. They need to like you before they can trust you. And they need to trust you before they will buy from you. Let's look at 6 steps for successful email list building.
6 Steps For Successful Email List Building
1. Create A Squeeze Page
A squeeze page is a webpage created to obtain opt-in email addresses from prospective subscribers. It may not necessarily have any direct information about the product or service you want to sell, other than to hint at the benefits of what is yet to come. The main purpose of a squeeze page is to capture information for list building and follow-up email marketing.
2. Get An Autoresponder
Your autoresponder is your 'salesman' who works non-stop for you every day of the year. That is, as long as you have told it what you want it to do!  Now that your squeeze page has obtained your lead's email address, you have to follow up that lead via email with a series of pre-written messages or sales funnel (see below).   I would recommend Aweber – it is known to be the best email list builder software program available and you can start a month's trail for free!
3. Give Something For Free
To get somebody to provide their email address, you have to offer them something in return. It is rare for people to opt-in to your list if there is no immediate benefit to them. In exchange for their email address, you could offer something like a free report or video that provides valuable information about the product or service that you are selling. They have then shown an interest in your product or service and email marketing best practice dictates that you now have their permission to send them more information.
4. Create A  Proven Sales Funnel
Once the potential customer has opted into your list, they are in your marketing funnel where they go through as series of stages towards the buying process. Statistically, a prospect needs to see or hear your marketing message at least seven times before they take action and buy from you. You need to create relevant messages that will be emailed to your prospects.  Be sure that the content is directed toward specific reasons to buy the product but do not make it sound like a sales pitch. Focus on important points like how your product can make life easier or tasks simpler.
5. Only Promote Quality Products To Your List
The goal of your online business is to sell things. The way you do that is to provide helpful information about a specific problem and then offer to solve that problem for your reader by suggesting a product or service. You don't have to push the product because the sales letter of the product will do that. All you have to do is raise the curiosity of your reader and encourage them to click on the link within your email.
6. Target Your Traffic
You need to know who your ideal customer is and focus your email marketing campaigns towards them. To find your ideal customer, you have to know who is most likely to use your products or services. What problems are you solving for them and what are their top priorities?
Focus your efforts on building a list and giving the people on that list incredible value. Once you do that selling takes care of itself and becomes automatic. Remember that if you are not building a list now then it's time to get started!
Want More Email List Building Strategies?
Email list building for your online business can be a tricky and complicated process. To learn how you can quickly and easily get your online business moving with, not only with effective email list building strategies, but all aspects of online marketing check out this FREE 7 day bootcamp.