Can You Really Make Money From Home?
Anyone starting a home based business is always going to want to know how long it will take to find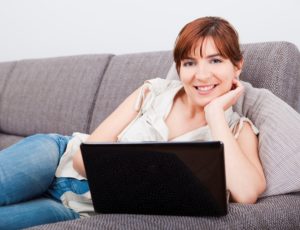 success. The increasing number of people buying products and services on the internet has made an online business the best business to start from home.
While the journey to success can be different for each person, the underlying question beneath it all is, "How long will it be until I start to make money from home?"
The answer to that is that it's different for every person because it depends on your idea of success as well as many other factors. However, it is important to remember that when you are starting a home based business, you need to treat it like a business and realise that it takes time to grow. If you treat it as a way to make money overnight from home you will probably make nothing because there is no quick way to making money online. Beware of make money from home scams that promise you that you'll make millions in a few days.
How Quickly Can You Make Money From Home?
You might be able to make money from home in the very first week of starting a home based business, yet on the flip side of that first week sale, you could work all year long before you ever see the first sign of any money for all of your efforts. So what is it that makes the difference between faster profits and having to wait?
Here are 5 questions that you need to answer when starting a home based business.
1. Do you have a solid business model?
To build the best home based business you need a solid business model. You must ensure that you have a good product or service to sell and that people will want to buy it. There have to be valid reasons why someone would want to buy it from you, rather than somebody else and the whole process must offer value and be focused on the customer.
2. How will you find customers?
You can only make money from home if you have a steady flow of customers. For an online business this means customers visiting your website or online sales pages. If you plan to pay for customers traffic, for example with pay-per-click advertising, banner ads, solo ads, classified ads etc, do you have the available funds? If you plan to use free traffic methods like blogging, article marketing, forum marketing and search engine optimisation do you have the time?
3. Do you have a list building strategy?
There is a well known saying in the online business world and that is "the money is in the list". This means that if you want make money from home with your own online business, you need database of customers and potential customers that you continually build up over time. You have to know how  build and maintain a list of potential customers and how to retain existing customers so that they will buy again.
4. Do have you an effective marketing funnel?
This means that you have a clearly defined set of steps that your customer will go through within your sales process. For example – they start as a lead, they receive something of value for free from you, they buy a low price product, they join a membership scheme, they buy a mid-price product, they get more rewards, they buy a high price product. Then the cycle starts again.
5. Do you have any support or training?
If you were starting a new job working for somebody else, you would expect somebody to teach you how the job and show you what you needed to do. Why should it be any different when starting a home based business?  Being a home business entrepreneur can be a lonely job and the temptation to quit is very strong when you get stuck. Take time to learn from those who have gone before you as you will be able to avoid mistakes and become profitable more quickly.
Step By Step Guide To Starting A Home Based Business
If you don't have an answer for all the above questions it does not mean that you will not have any success. But if you do, your chances of success will be better. Your success also depends on how quickly you can put into practice each step that you need to take to set up the business. Some of these steps might take you longer than it does the next person. For a step by step guide on starting a home based business check out this FREE Online Business Video Training Series specifically created to show budding entrepreneurs how to make money from home.