How To Get More Search Engine Traffic
Every online business owner wants more search engine traffic. This process of search engine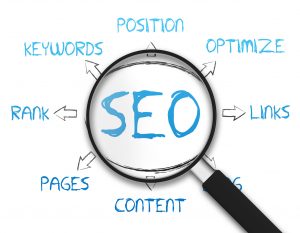 optimization (SEO) is all about getting more traffic to your website from the likes of Google or Bing. This organic, free search engine traffic doesn't have any financial cost. The only cost is your time in optimizing your website so that the search engines notice your website and direct prospective customers to it.
When you're building a website for your online business it's important that you understand who your audience are and what the purpose of your website actually is before getting started. You then need to optimize your website so that you get more search engine traffic than your competitors.
12 Ways To Get More Search Engine Traffic To Your Website
1. Know Your Keywords
Study the keywords that your audience uses to find you. It doesn't matter what other people think about your keywords, it only matters what your audience is using to find you. Look for high value, low competition keywords to use to attract your audience.
2. Use Keywords in Titles
Not only should the titles on your page be keywords, they should also be in the proper heading style. If the search engine recognizes it as a header, it will place more importance on the words than if it's body text.
3. Optimize Title Tags
If you look at the top of any webpage, there is a title for the page. Take advantage of this area to define what the search engine sees about your page. If you don't control this area, every page of your website will have the same title tag. Differentiate each page in order to get more hits from search engine.
4. Use Meta Descriptions
Every page has a meta description that will define how the search engine displays your search results to the reader. Make the most of this feature. Although meta descriptions don't directly influence your search engine ranking, it's the text that people will read to encourage them to click through to your website. You are limited to 140 characters so carefully chose what you write and remember to include your keyword as it will show up in bold text. 
5. Use Keywords in Subheadings
The title of your web page, or page header is called an H1 heading and, as mentioned above, it should contain your keyword. But don't just use the H1 heading. Creating subheadings with keywords in sub-headers (called H2 and H3 headings) will also draw attention of the search engines. They will also help to lead your reader's eye down the page to what you want them to read and describe the actions you want them to take.
6. Keyword Density 
The text on your website should be written so that it can be easily read by humans, not just the search engine spiders. If you stuff your webpages with keywords it not only makes your page unreadable but also the search engines will ignore it as being too spammy. The amount of keywords that you have have on your website pages is called keyword density. This is calculated by dividing the total number of keywords, by the total number of words that appear on a website page. The accepted standard for a keyword density is between 2% and 5%.
7. Keywords in URL
Include a keyword in the URL of your website pages and blog posts. Don't go too crazy with the keywords, though; you want the page URL to also look nice.
8. Use Descriptive Keywords For Images 
Search bots can't read images. So it's up to you to provide descriptions for the images that you have in your website pages. Use more than "pretty blue flower" to describe the image. Instead use keywords that are particular to your text to get maximum search traffic.
9. Don't Forget Video
Videos add an additional dimension to your web pages. While a search engine bot can't really watch the video, it can read the tags and notice that there is a video. And since users like video a lot, the search engine is more likely to put that page toward the top of the results.
10. Responsive Design
People don't exclusively use their desktop computers when browsing the internet. In fact, more and more people are using mobile devices while they're waiting in the doctor's office or visiting a coffee shop. The more responsive your website design is, the more the search engines will like your page.
11. Update Your Content Regularly 
The search engines want to provide its users with the most up to date information possible. If your website content has not been updated for months, it may be considered no longer relevant. If you don't regularly update your website content you won't get more search engine traffic.
12. Get Quality Backlinks 
Getting links from other websites to your website will get you more search engine traffic. Backlinks are an indication of the popularity and value of the content on your website. The key factor is to get links from quantity websites. One way to do this is to write articles for high pedigree websites and getting a link back from them. Also regularly check that your website doesn't have any broken links.
Get More Search Engine Traffic With Your Own SEO Expert
Using these tips to create a fully optimized website to increase search engine traffic will work. But it can be challenging trying to format keywords, calculate keyword density, set the correct content length, decide the exact placement of your keywords, tag your images, insert links, use font decorations and more. So why not have some help from your owm SEO expert? If you're running a WordPress website, the SEOPressor plugin is the best website traffic software available. It's like having an SEO expert sitting right next to you. It gives you maximum SEO clarity with a host of customization and optimization features designed for controlling SEO with ease so that you get more search engine traffic.