Online Banner Advertising: Is It Still Effective?
Online banner advertising is made up of rectangular graphic panels which link to an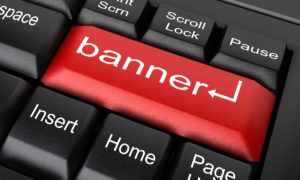 advertiser's website or landing page. You will generally see banners on websites at the top, sides or bottom.
A website that sells online banner advertising space can only guarantee that people will see your ad. These are known as banner views. They cannot guarantee that anyone will read it or click through to your landing page or website.
Banner advertising costs are normally calculated by every thousand times a banner is shown. This is known as the CMP or 'cost per mille'.  The cost of a banner can also be calculated by the duration of time that the banner appears on a website which is normally per 30 days. The average click through from banners to most websites is roughly 2% to 5%.
When advertising on websites first started, online banner advertising was very popular. Today, some online business owners think that it has had its day. But has it?
Display internet advertising is increasing
Almost every commercial website still carries online banner advertising and if banners did not work, people would not buy them.
Success with online business marketing, like offline business marketing, always comes down to having a suitable return on your marketing investment. If your banner campaign is costing more than it's earning, then you are wasting your money. Profit margins are generally tight on banner advertising and that applies to both the website selling the advertising space and the business buying it.
Actual cash is not the only way to measure the success of online banner advertising. One of the reasons that they are still popular is that they're a pretty effective branding tool. In a similar way, advertisers also spend millions on billboards and other outdoor poster sites to build brand awareness. But brand advertising, rather direct response advertising, costs a lot of money because you need massive exposure so it's usually best left to the big organisations who have the large budgets to spend on this type of marketing.
Effective online banner advertising
As with any form of advertising, the effectiveness of your online banner advertising depends on you using the right tactics. To maximize the effectiveness of your banner, you should make sure your banner ads are well placed on relevant websites which are visited by people who are interested in what you have to offer. You also want to make sure the websites your ads appear on have steady, reliable traffic.
Internet banner advertising has become more sophisticated with better targeting and improved graphics.  The job of your banner ad is to 'sell the click'. That is, to just get people to click on the ad. This can be done by offering information or products of value if the viewer clicks on your banner, or by making the banner attractive or animated enough to encourage a person to click on it to find out what it's all about.
Your chances of getting viewers to actually click on your banner ad increases when you develop effective banner advertising that motivates people to find out more.  Then, once they have clicked on your banner they are directed to a landing page that provides something of value in exchange for their email address. Once you have their email address, you can follow-up the lead with email marketing.
Marketing Your Business
Success in business is mostly about marketing, especially online. Great marketing can sell an average product but poor marketing cannot sell a great product. To learn more about online banner advertising that will work for your business and how to find the right products to sell and the right customers to buy them, check out this FREE 7 Day Online Marketing Bootcamp.