How To Build Your Online Business Brand
Some years ago, you didn't really need to worry too much about your online business brand. It seemed that all that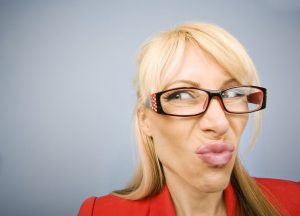 you needed to do to get your website ranked highly in the search engines was to find the right keywords, put them into your domain name, and get hundreds of backlinks to your website.
Then Google changed its algorithms and everything changed. Websites with keyword-stuffed, poor quality content and who were buying links via link networks were no longer at the top of the rankings. For these guys, the whole thing stunk. Their website rankings and traffic fell through the floor.
But the savvy online marketers realized that they had to start building stronger brands if they were to see results and keep high up in the search rankings. Let's look at how you can build your online business brand so that it doesn't smell fishy to your customers and the search engines.
The Goal Of Online Business Branding 
Your online business brand needs to focus more on the value that the business or product can offer the consumer. It's more than just the logo and tagline. It's a goal is to deliver quality, consistent content and what sets your business apart from its competitors.
Is SEO No Longer Necessary? 
Search Engine Optimization (SEO) is a term used for strategies to increase the number of visitors to a website when they have been searching for a phrase or term. It uses a combination of popular keyword phrases, keyword analysis and link building to achieve this.
No internet marketer can ignore the basic concept of SEO. It's necessary to organize websites properly. Links, keywords, and on-page optimization continue  to play important roles in getting your website ranked. However, shady 'black hat' SEO tactics should definitely be avoided.
How To Build Your Online Business Brand
If you work on building your business brand online it will ensure you weather the storms of future Google algorithm updates. It will also help your business create a loyal customer base.
Branding Your Business Builds Trust
Brand building is all about creating relationships with customers. It is about developing your business as a symbol that stands for something. When customers can recognize a brand and associate that with a positive experience, they are more likely to buy from that business again. Having a strong brand gives the perception that the product or service is more trustworthy.
If your website domain name can be seen to be obviously trying to manipulate the search engines, (eg, something like "get-rich-quick-for-free.com") it doesn't really build any trust. Although Google no longer takes exact name domains into account, a strong brand domain name is more trustworthy, for search engines and for web traffic. The best policy is to create a strong business brand knowing that in time you will build a loyal customer base.
Quality Not Quantity

Building a reputable online business brand focuses on quality of content. Google also recognize this and its algorithms take into account quality. When visitors to a website see that they get something of value, then they will be encouraged to stay longer, bookmark your site, and feel confident to buy from you.
FREE REPORT: How To Write Content For An Online Audience

If you try to squeeze too many keywords onto your website pages it very often means that the content doesn't read naturally. It seems fake, and nobody wants to buy from a business that comes across as fake.
The same goes for link building. To build your online business brand only look for high-quality links from relevant sources. Links from low quality websites do nothing the help your rankings. They can even lead to your business being penalized if it's done wrong
Social Media
This is one of the best ways to build your online business brand and engage with your customers. People viewing and sharing your content on social media will register with the search engines. Also, having a strong following across social media protects you from any future algorithms Google may implement. Therefore, it's part of a long-term marketing strategy.
Build Your Online Business Brand With Confidence
Online marketing boils down to two things – creating great content and optimizing it to increase website traffic. But it can be challenging trying to figure out how to build your online business brand effectively with content that has the correct length, keyword placement, keyword density, related keywords, tagging  images, back links, font decorations and so on. Discover how to give your WordPress Website a tangible competitive edge and build your online business brand with confidence.