6 Treats To Help Your Online Business Marketing
There are many different reasons why online business marketing is important. Marketing is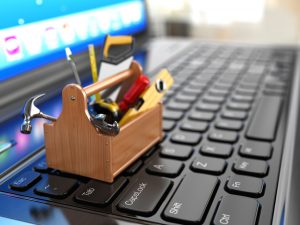 essential for every business. It's the process of bringing people to your business and converting them into customers. Without marketing, you'll have no business because nobody will know that you exist.
Online business marketing makes it possible to target prospects from all over the world on a much larger scale than could ever be achieved through conventional 'offline' methods of marketing. It provides an instantaneous mode of conveying marketing messages, cost effectiveness and a high ROI (return on investment).
Below are 6 elements that I use for my online business marketing. And the great thing is, they're all free!
Free Online Business Marketing Tools
1. Keyword Research Software Package

If you want to get your website at the top of the search engine rankings then you need some search engine optimization (SEO) software. With the right SEO software in place, the search engines will direct organic (unpaid) traffic to your website. But the majority of online marketers fail to rank in the search engines because they violate one or more of the 4 unbreakable rules of search engine optimization. You can discover these 4 golden rules and download a free piece of software called Market Samurai, the only keyword research software tool you'll ever need.
Click here to download your free copy of Market Samurai.
2. Shrink, Cloak, Redirect, Track, Organize And Share All Of Your Links 
If you're not tracking the URL links in your online business marketing campaigns how do you know how many people clicked on a link? Are your links sometimes way too long and wouldn't they look better if they were shorter and neater?  Also, if you're selling products and services  via affiliate marketing, wouldn't it be great to have all your links in one place? And did you know that crooked affiliate marketers can switch out your raw affiliate link and replace it with their own? You can clean up and cloak your affiliate links using your own domain in just seconds with TidyURL.net. This free and handy plugin for WordPress allows you to shrink, cloak, redirect, track, organize and share all of your links on your own domain and server!
Click here to download your copy of TidyURL.net
3. Customise Your YouTube Videos 
YouTube has over a billion users. That's almost one-third of all people on the internet. People watch hundreds of millions of hours on YouTube every day and video should be part of your online business marketing.  But when you embed a video from YouTube onto your website you are limited in what you can do. With this Free YourTube Player app you can easily style adn customize your YouTube videos. Add custom backgrounds, borders, change the title colours and margins, add title text and change the player fonts. Set videos your website to autoplay, stop people from skipping through your videos or hide the progress bar. You can even select a custom video start point. You control everything.
Click here to download your copy of YourTube Payer. 
4. Increase Leads And Followers 
One of the most important internet marketing strategies is list building. This is the process of getting the emails of prospective customers, or leads, onto your database so that you remain in contact with them via email. You can increase your lead generation with the completely free MyLeadBar that integrates with your WordPress website. It's easy to customize the look and feel of the bar using a simple editor to change the colour and fonts to match your website. You can also add links to your social media sites and link to directly to any landing page of your choice to increase your subscribers.
Click here to download your copy of MyLeadBar
5. Free Content For Your Website And Blogs 
Writing content for your website, articles, blog posts, ebook content, etc can take a lot of time and research. And hiring a professional writer is often too expensive for many online entrepreneurs. That's why one of the most useful online business marketing tools for creating content is Private Label Rights (PLR). PLR provides high quality pre-written content that you can use and edit in any way you want. You can even use your name as the author.
Click hereto get your free starter pack of PLR Reports, Articles and Videos.
6. "Crash Course" For Profiting Online
If you're interested in learning how to become profitable online starting from scratch or are unsure of how to get started, but open minded to learning about new concepts, then this is for you. This free online business webinar from internet pro Stuart Ross, provides a 'crash course' on how to do internet marketing and run profitable online business. You'll see how you can grow income streams by working online using the skill sets of online business marketing.
Click here to get free access to the online business webinar.