Why Have A Relationship Strategy With Your Online Customers?
When you start an internet business you don't really have time to think about building a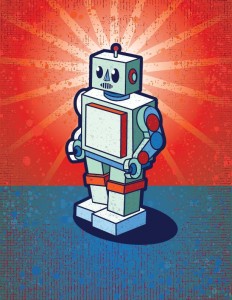 relationship your online customers. You're working hard to find the right strategy that will provide the fastest, easiest way to make the most money in the shortest possible time-frame.
But your online customers aren't robots. And neither are you! You may think that your customers come to your website without emotion to buy something once at the best possible price and then they'll be gone. It's all very clear-cut and impersonal.
Yes, you can make money being impersonal and using a wise business model. You can make a little bit here and there. But it's not enough to sustain you. So in the end you wind up losing more money than you get in return. Here are 8 reasons why building a relationship marketing strategy with your online audience will help your business.
8 Ways A Relationship With Your Online Customers Will Boost Your Business
1. They Will Buy Without Even Reading the Sales Copy
Once you learn how to build a relationship with your online customers, you'll discover that your sales conversions happen almost instantaneously whenever you send out an email. That's because your audience will have such a deep trust in you, that whatever you recommend, they buy without hesitation. Sales copy won't have as much weight as your advice.
FREE Checklist: How To Get Your Brand To Stand Out

2. They Will Trust Your Judgment
You have to learn how to promote products that go above and beyond in terms of quality. Not just that, but you have to recommend people who are trustworthy, too. If you find a decent product but the creator lacks ethics, then you don't want to introduce your customer to a shark like that. Once you show that you lack judgment (maybe to make a quick buck or two), you lose all credibility. After that it will be nearly impossible to regain the trust of your audience for a long time.
3. They Will Know You're There for Them
As you practice connecting with your online audience you'll start to see that they feel comfortable with you. They'll see you as their advisor. That means they'll come to you with problems. Sometimes these will related to your niche, sometimes not. They'll be hoping that you can also help them in other areas. This easy friendship they feel will open the doors for more sales. You'll become the "go to" person that people aren't afraid of communicating with.
4. Relationships Convert Into Instant And Increased Sales
When you have a close relationship with your online customers, you'll get much higher conversion rates. Some people claim that relationship marketing is simply about getting an audience to stick around long enough that you can convince them to buy from you. But what they're missing is the point that people don't stick around on websites where they're not engaged. They land, catch a quick glimpse of something, and quickly exit out of the site. Those who do understand the importance of relationship marketing will automatically be able to engage their audience for a lengthy visit that converts into a sale.
5. Customers Become Affiliates for Your Products
If you're in the online business niche, then there's a very good possibility that your own online customers could become affiliates for your products. This is a great way to increase your sales. Instead of paying for traffic or spending time driving free traffic to your website, you can recruit affiliates through your own network of loyal customers.
Once someone purchases your products and sees that you develop top quality, they will happily sign up to promote them as an affiliate. They know that your products provide great value and that you're ethical, honest and reliable.
6. They Spread the Word For Increased Branding and Viral Appeal
Even if your online customers are not part of your official affiliate team, they'll be helpful in helping you spread the word about your business. They'll share your social media content to their followers and email their friends your links. This is  because they know that you deliver value. Every blog post you write, every email you send, every social network communication – they all have the chance of going viral when you build a close connection with your online customers.
7. Relationship Marketing Helps You With Product Development
When you are able to connect with your audience about their needs and wants, you can provide specialized products that fit them perfectly. And when you do come through and provide a product tailor-made to their needs, you will be hailed a leader in your niche. It will boost your branding and appeal with your audience even more because you listened and delivered.
8. You Will Feel More Fulfilled
Building relationships with your online customers is more than just being about the money. There's no better feeling than when a customer emails you and tells you how what you do has improved their life in some way! You'll even make friends through your business. They may not be friends you'll ever meet in real life, but they are friends nonetheless. And that would never have happened had you not taken the time to truly connect with your readers and customers as real people, rather than just dollar signs!
Where To Connect With Online Customers 
Your website visitors are people with needs. Show them you can help them and they will love you and buy from you. Getting traffic to your website is one thing but getting targeted traffic is another. To build a relationship with your online customers you need website visitors who are genuinely interested in your products and services. To discover how you can get the right visitors to your website this Free Traffic Mini Course will show you how to build relationships and increase sales by driving highly targeted traffic to any offer you promote.