Make Your Online Home Business Stand Out From The Competition
Since the creation of the internet and more recently with the explosion of social media, thousands of people have started their own online home business. The internet is great place for buying and selling. Customers can investigate products or services before spending any money and sellers can reach customers from all over the world.
But the internet is a competitive environment and if you've got a work from home online business you have to stand out in the crowd. So how can you do that? Here 6 practical ways to make your business stand apart from your competition.
Does Your Online Home Business Stand Out In The Crowd?
It is often very easy to compare your online home business to others. The tendency may be to think that they do something better than you. But, even though it is important to look at what they are doing, the first thing that you need to do is to evaluate your own work at home business.
1. Have You Become Static?
Take a good long look at where you have been static with your online home business. When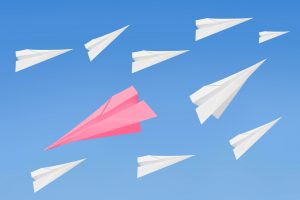 was the last time you wrote a blog post or checked your internal website links? Are the products and services that you're selling still relevant and up to date?  Is there new and innovative products or services that you should be selling or can you improve your current range?
2. What Can You Repurpose?
When you repurpose something it means that you alter something that you previously did to make more suited for a different purpose. For example, is there a set of blog posts that you could turn into a video series or a product that you could adapt to appeal to a different segment of your market?
3. What Needs Recreating? 
Is there an area of your business that needs attention, such as reorganizing your daily schedule? Take a look at the tasks that you do on a daily basis to see what is actually helping you to generate revenue and what is just really wasting your time?
4. Are You Up To Date?
When you start a home business online everything is new and up to date. But what about now? Look and see if your product or service lives up to today's standards. The online business world moves fast and there is new technology and systems being developed all the time. Keep an eye on the latest trends by following relevant social media sites and never give up learning.
5. Are You On Social Media?
Social media allows your business to connect with your target audience, increase your exposure, generate leads and bring in sales. People look for their favorite brands and products on social media and if they can find you there, chances are they will click through to your website to find out more information. If your website does not incorporate social media, then it is time to include this all-important aspect into your online home business.
6. Can You Reach More Prospects?
The most important task for any work from home online business is to continually work on building a list of prospects. This does not necessarily mean spending a fortune in paid advertising every month.  Perhaps you need to set up a Facebook fan page if you do not already have one put in place. Check to see if you are responding to emails or comments that visitors leave on your website. Engaging with clients is a sure-fire way to bring them closer to you rather than alienate them. Reach out to other online businesses and blogs to create a sharing opportunity on each other's websites through guest blogging.
Building The Best Online Home Business For You And Your Customers
The online business world is extremely fast paced and moves at a rapid speed through change. Keeping up with those changes is the only way to stay ahead of the competition. Of course, when you're running a work from home online business it can be a challenge deciding what you should do or should not do and how much time, money or resources you should allocate to it. Sustainable success comes from having a solid business model, clear direction and some help along the way. Check out this Free Online Business Webinar from the world's first online business and marketing academy which reveals the proven steps to running a profitable online home business.