Do You Have These Online Marketing Skills?
If you're running an internet business, why do you need online marketing skills? Success in business is mostly about marketing, especially online. Great marketing can sell an average product but poor marketing can't sell a great product.
Your online marketing plan is designed to help you achieve the goals you set for your business. A marketing plan is a list of the tactics you're going to use, how you're going to use them, and also how you'll track success. There are many potential components to a successful online marketing campaign and the greater your online marketing skills, the more effectively you will be able to recognize opportunities and pull all of the pieces together in an effective and profitable way.
Let's take a look at 7 core online marketing skills that every entrepreneur should know.
7 Online Marketing Skills That Every Entrepreneur Should Know
1. Content Marketing
One of the most important online marketing skills is content marketing. This includes your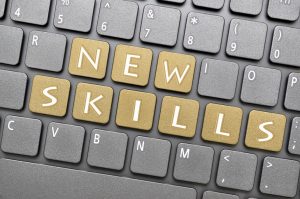 blog posts, articles, any reports or materials you publish, and even your newsletter content. Your content marketing will likely integrate with your other marketing tactics, including social media and email marketing. The more quality content you produce the better. High quality, non-duplicated content on your website keeps readers engaged with your business, helps to increase organic traffic from the search engines. It should always be informative, fresh and above all unique.
2. Email Marketing
Email marketing is one of the most essential marketing skills. Research shows that 67% of marketers around the world rated email marketing as the most effective marketing
method. Effective email marketing requires an email database of potential customers who have expressed an interest in your products or services. But it takes skill to create a successful email campaign so that your audience actually open your email and take action.
3. List Building
It costs 6 to 7 times more to get a new customer than keep an existing one. Knowing how to build an email list of actual and potential customers is another important ingredient of your online marketing skills. When you have an email database you are able to contact your customers and prospects, for free, anytime you want. List building makes economic sense and will ensure the longevity of your online business.
4. Social Media
Your customers are on social media whether you like it or not.  Social media allows your business to connect with your target audience, increase your exposure, generate leads and bring in sales. It also invites interaction and conversation. When you have the correct online marketing skills you can create profiles on social media sites where your target audience audience hangs out and integrate your efforts with your other marketing tactics.
5. Website Design 
You don't have to be a website designer to know good website design. Does your home page clearly state the benefits of your product or service? Does it work on mobile devices? Is it easy to read and navigate? Regardless of whether you build your own website or you hire somebody to do it for you, the experience visitors have on your website can make or break your connection to them. If they have a positive user experience, they will be more inclined to become frequent visitors. They may subscribe to your site, join your email list, and follow you on social media. A good user experience provides value and is easy to navigate.
6. Search Engine Optimization
Search engine optimization techniques are the online marketing skills used to improve the non-paid, also known as organic, results in search engines for a particular keyword or set of keywords related to your business. It's important that you know how to optimize your website's written and visual content to help you achieve a good page ranking.
7. Video Marketing
You don't have to be Steven Spielberg to get involved in video marketing. You don't even need to appear on camera. But once you have video marketing on your list of marketing skills you'll see how it adds life to your online marketing campaigns. Uploading relevant videos to websites like YouTube (used by over 1 billion people every month) puts your products and services in front of millions of potential customers.  Videos transform static, traditional online content into action-driven messages that project your message in a powerful, dramatic way.
Want To Quickly Brush Up On Your Online Marketing Skills?
All small businesses and entrepreneurs have so much to gain from being online and you if you need to brush up on your online marketing skills what can you do? The biggest hurdle is often trying to find time to read, watch or listen to long sessions of marketing skills training. That's why Grovo, the world's leading digital skills platform provides short, smartly-engineered instructional bursts that are proven to command attention and generate retention. Each session is broken down into short 2 to 3 minutes segments which makes it easy to fit into your busy day.
This online training for marketing professionals is usually only available to corporate customers. But, you can get instant access to the Grovo training via the Six Figure Mentors digital platform. Access these micro-learning digital nibbles for only $25 a month when you click the Special One Time Offer Box on this page. You can cancel any time when you're done, when you choose, or when you feel your online marketing skills are up to date.