Building A Passive Income Business
The basic principle for a passive income business is that you do the work once and then that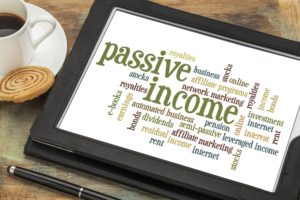 work is repeated on autopilot for you, generating income month in, month out. Passive income is also referred to as a residual or recurring income. And there is no better place for passive income business models than with an online business.
Many successful online marketers know that the secret to long-term success is generating consistent income each month. With an online passive income business you will receive a monthly payment for as long as the buyer uses the product or service and this can amount to a significant income in the long run.
There are traditional 'offline' passive income business models that you will recognise. For example, rental from a property, royalties on an invention or an insurance agent who gets commission every year when a customer renews his policy. So how can you you implement online passive income into your business?
 How To Build A Passive Income Business
1. Membership Website 
If you have a niche or a business idea that you believe is an evergreen one (evergreen niches never get outdated) you can create a passive income business with a membership website. A membership website gives access only to those who pay a certain fee for the knowledge you share on that website.
But why would people pay when they could look on a search engine for the information they want? First of all, not all information found on the internet is reliable and people know that. People know that if they want the best advice, the best training, and the best information, then they have to go to the experts to get it.
Whenever you excel in an area, you deserve to get paid for your expertise. Content is a goldmine online and smart marketers know how to prospect content and make it work to bring in profits. You can teach people the skills you have by setting up weekly how-to articles or webinars, cover how-to segments from start to finish and constantly give members fresh material, so that they stay with the membership site longer.
The monthly fee should be based on how much the content is worth. Not how much it's worth to you, but how much it's worth to the members. Your membership will grow if your fees are right. If you start losing members, then you'll want to recheck the value of what you're offering. Always test and tweak different price points.
Free Checklist & Toolkit: How To Choose Your Online Niche

2. Affiliate Products
If you don't want to set up your own membership website, there are many products and services that you can sell as an affiliate that provide a recurring income.  Although the initial upfront earnings of these passive online business models may be less than the one-off product sales that are available with other online business opportunities, they have excellent  long term value.
You can find a large selection of recurring income products such as software licenses, subscriptions, membership sites and newsletters at Clickbank. To find the recurring income products, log into your account (if you don't have an account, they are free to set up) and click on Marketplace. Select the Category of product you want to promote and then select 'Recurring Billing' from the Product Type dropdown menu and click Go.
3. Create Your Own Product
This is similar to having your own membership website. You effectively create your own digital product and get other people to sell it for you. By creating your own products, you'll see the profits surpass anything you could earn if you just stuck to selling for others. That's because you get 100% of the profits for some sales and a percentage of profits that your army of affiliates send your way. Plus, if you write an eBook, you get to place affiliate links or links to other products you own within it and you'll wind up with even more in sales.
How To Build A Passive Income Business 
Regardless of your age, education, technical skills or qualifications there are many online business opportunities to generate you recurring monthly revenue.  However,  the best internet business opportunities do require a solid business model to work from, clear direction, training and support. To learn how you can quickly and easily start a passive income business without any previous training, knowledge or even your own products to sell, check out this FREE Online Business Video Series.