Promote Products For Money With Clickbank
When online marketers want to promote products for money the first place they often go is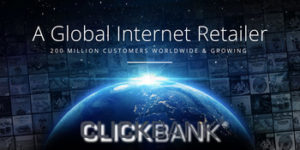 Clickbank.  ClickBank is an online marketplace for digital information products. It connects digital content creators and online marketers, who then promote the products to consumers.
Clickbank has paid out over 2 billion dollars to online marketers who make money promoting products and services online. Do you want to promote products for money with Clickbank?
Anyone Can Use Clickbank To Promote Products For Money
Clickbank is a great place to start an online business with affiliate marketing. It's free to join and is a widely-known, respected company in the online business world that offers you its reputation to give you credibility.
To make money online by promoting products from Clickbank you will need a computer and access to the internet. This can be a laptop or desktop, whichever you have access to and are comfortable using. A fast internet connection is recommended because it will enable quicker, smoother work.
How To You Make Money?
Clickbank offers many avenues for generating income. Utilizing these you can create continuous revenue, extra income, and a full-time income or just a part-time side job depending on what you're looking for.
You do not even need your own website to promote products for money with Clickbank. You can select products and advertise them to people who you already have a connection with, usually via an email list of customers. Email list building is one of the fundamental cornerstones of any online business.
FREE Checklist: Affiliate Marketing For Beginners

Choose Your Products
The Clickbank online marketplace contains tens of thousands of affiliate products to promote so you're sure to always find offers that will appeal to your audience. Once you have found the product that you want to promote, Clickbank will issue you with a unique Clickbank 'hoplink' which is your link the product's sales page. This is the link that you want your prospects to click. When your prospect clicks the link and buys the product, the sale is tracked to you and Clickbank will pay you your commission, which can be upto 75% of the sale price.
Use Your Blog
Many online marketers write their own blog directed at their particular niche.  A blog is an ideal medium to add links to whatever products from Clickbank you feel may appeal to your readers.
Writing articles and embedding products from Clickbank offers an opportunity for your prospects to find information about something they are interested in. You can place your articles on many content websites, submit them for review with Google and share their availability on social networking websites.
Clickbank also allows you to sell your own products directly from their site, as well as offering them in the selection of products that are available for others to promote. When other people choose to promote your products you give them a percentage of your sales in exchange for their review and advertising.
Promote Products For Money With Clickbank The Easy Way
For many people, earning money online requires great effort and utilizing many different sources. Clickbank provides you the opportunity to follow several income sources simultaneously to optimize the amount of income you earn. Clickbank has thousands of affiliates who make money promoting products you can be one of them too. To get one step ahead of other Clickbank affiliates, you can clone a Clickbank super affiliate's entire affiliate marketing system and promote products for money on autopilot.