How Affiliate Marketing Works
The affiliate marketing business model is basically the online version of a commission paid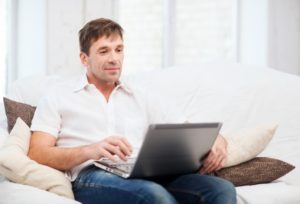 salesperson. You choose a company's products and services to promote online. When somebody buys that product or service from your advertisement, blog post or website, you receive a commission from the company based upon the total amount of the sale.
Companies and product owners have no problem paying out commissions to affiliates because it would cost them a lot more to advertise and promote their products to all those customers. So, if that's how affiliate marketing works, it must be a win-win situation. Well, yes and no. Let's take a look at a few of the pros and cons of having an affiliate marketing business.
3 Good Points: 
Anyone Can Be An Affiliate 
The great thing about being an affiliate marketing online business is that you get to benefit from, or leverage off, other people's knowledge, time, ability and experience! You don't need to be an internet whizz-kid or have a degree in computer studies. It does not matter about your age, your background or where you live. Anyone can start an affiliate marketing business as long as they have access to a computer and the internet. You don't even need your own website.
You Don't Need To Create A Product
You don't have to create your own product in order to profit online. Some affiliates make millions – and have no products of their own. You promote other people's products, and receive a commission for your efforts. There is a huge choice of products and services from physical products that are delivered to the customers' door (see websites like Amazon, CJ Affiliate and Share-a-Sale) to digital products that customers can download instantly to their computer (see websites like ClickBank, JVZoo or Warrior Plus).
No E-commerce Issues
One of the great ways how affiliate marketing works is that product owner takes care of all the payment systems, so there's no need for payment processors or e-commerce shopping carts. They organize the deliveries, manage the customer support and basically take care of the whole sales process.
3 'Not So Good' Points:
Too Much Choice
Choice is a great thing but too much choice can overwhelm you. You see a new shiny product on the market and spend time and money promoting that, then something else comes along then something else and so on. There are an almost limitless number of affiliate programs and, if you're not careful, you can lose track of what you're doing, who your potential customers are, and waste money on advertising that does not generate results.
You Don't Know The Customer 
In the purest form of affiliate marketing, when you send a customer directly to a product owner's website you may never know who that customer actually is. You don't know how to contact them or how to get them to buy from you again.
You Have No Customers Of Your Own 
If you have a basic affiliate marketing business without your own list of customers, you are effectively building someone else's business and not your own. You are pushing customers to them who may buy again and again. But you will only get the commission for the first sale.
Is It Worth Starting An Affiliate Marketing Business?
Promoting the right types of products and services can provide great income streams as part of a wider online business model. All successful online affiliate marketers have a solid business model backed up by training and support. For more information, check out this FREE presentation that explains in more detail how affiliate marketing works and how you can start making money with affiliate marketing. It's has been specifically created to help budding online entrepreneurs who want to build their own affiliate marketing business.
In part 2 of this blog-series, we'll at look at how affiliate marketing works for many online entrepreneurs around the world.