Starting A Home Based Business Doesn't Have To Be Complicated 
If you've ever thought of starting a home based business, you can get going much quicker than you probably thought possible. There's really no minimum or maximum age or set number of qualifications required when you start a business from home.

And where you live doesn't matter either, especially if you build your own internet business from home. You can reach customers from all over the world as long as you have access to the internet and a computer.
When starting a home based business online, the set up costs are low and you can be trading within a month. You don't even need to produce your own products or services. But there are some questions that you need to answer before you start.
Free Checklist & Toolkit: How To Choose Your Online Niche
10 Questions To Ask When Starting A Home Based Business
1. Who Do You Want to Work With?
Before you do anything, you need to have a good understanding of your target audience. This is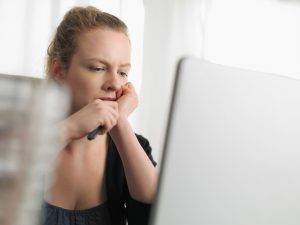 how you choose a niche. Many people choose the product or service first, but the best way is to start by choosing your audience. Then choose how to solve their problems with your products or services.
2. Will You Sell Products Or Services?
You can do both, but it's usually easier and faster to start with one. In a service-based business you can start as soon as you determine the services and get your website made. With a product-based business you'll need to either create the products first or you can sell products produced by other businesses. For example, you can sell products from Amazon.com as an Amazon affiliate.  Either way, the thing that you offer should be a solution to a problem that your audience has.
3. What Skills Do You Have?
Now that you know what type of product or service you're going to sell and who you'll sell it to, determine what skills you have. Write down the skills you have that can be used to help sell your services or products. You can also use the skills of others to help if you have the financial resources to outsource some of the work.
4. Do You Have Business Plan?
Even if you only have a one-page business plan, it's important to write it down. You'll need to know who your audience is and how you'll source products or what service you'll provide. You'll need to explain all aspects of how you plan to do it. Plus, you'll determine how much it costs, and how much you'll charge. You'll also study your audience and set your prices during the business plan phase.
5. What Is Your Start-Up Budget?
When starting a home based business you'll need to determine how much money you have to get your business started. Certainly an online business is one lowest cost types of home businesses to start but you will need some funds set aside to get your website online and for marketing.
6. Are You Ready To Create A Website?
Now that you know what you're going to offer and to whom, you'll need to create a website. Your website is your shop-window to customers from all over the world. There is no need to be worried about the technical issues of creating a website. There are plenty of online step-by-step videos and tutorials that teach you how to build your own internet business. Or, if you prefer, you can outsource the job to freelancers who can do everything for you.  They can build your website, install blogs, set up your email and anything else you need. Check out websites freelance websites like Elance and UpWork.
7. Have You Got Somewhere To Work?
There are lots of different online businesses you can start from home. If you have specific knowledge on a certain subject you could create and sell information products like ebooks and online courses. Or you may choose to sell other people's products via affiliate marketing. You may decide that the best business to start from home to suit you is online coaching and teaching or selling your services as a freelancer. Whatever you choose, you'll need to set aside an area of your home as your office. Also set your working hours. Choose an area where you can work and won't be disturbed. If possible try to have a business computer and not use your family computer for your business. This means you won't have to worry about your children needing the computer while you are working.
8. Are You Ready For Social Media?
Love it or hate it, you can't ignore social media. It's where your customers are hanging out. Set up social media accounts for your business, with fully filled-out profiles. Set up your professional LinkedIn page, a Facebook page for your business, and a Twitter page. Don't feel as if you have to be on all social media networks. Just choose the ones that are relevant to your business and where your audience hang out.
9. Are You In It For The Long-term? 
If you think that you're going to make millions in a few weeks, you're not. All legitimate work from home businesses take time to gather momentum, find customers and make a profit. If you're the type of person to throw in the towel at the first hurdle then perhaps the home business world is not for you. But if you regard any mistakes you make as part of a learning process and you understand what went wrong, it will help you to progress forward. Every entrepreneur faces set backs at one stage or another. You have to be willing to accept the occasional set back as part of your ongoing business journey.
10. Are You Willing To Learn New Skills?
The business world is constantly changing with new products, technology and strategies being developed all the time. Remember that success is a journey, not a destination. What worked in the past may not always work in the future and you have to be willing to learn new skills and keep up to date to remain competitive and provide a better service to your customers.
Free 'Crash Course' For Starting A Home Based Business
Don't worry if you didn't answer with a 'yes' to all the questions above. Starting a home based business can be bit overwhelming. There's the worry that you might get caught up with technical issues or you might feel that you don't have the time or you're too old, too young or too inexperienced. Or you may just not know where to begin. To help you get started, this free business start-up 'crash course' shows how to start an online business from home and growing your income with a business you are passionate about using proven business models and concepts that very few people know about.