5 Rules For Starting An Online Business
Starting an online business of your own is a great way to satisfy your entrepreneur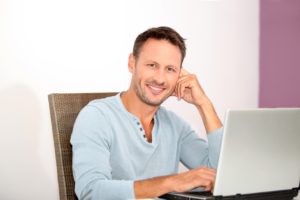 ambitions. The internet is a global marketplace and the number of people buying products and services online is growing at an incredible rate. If you have never bought anything via the internet, you will certainly know somebody who has.
And, if you have never sold anything via the internet, there has never been a better time for starting an online business. And it does not matter if you don't even have anything to sell!
1. Chose A Market 
The first thing you need to do when starting an online business is decide which market that you are going to enter. The  four top markets for your online business ideas are as follows: The wealth market includes betting systems, foreign exchange, internet marketing. making money online and real estate investments. The health market is massive, dealing with fitness, weight loss, nutrition, well being, beauty, pregnancy, yoga and more. The third is relationships. as they effect all of our lives from dating, divorce, making up, sex issues and parenting. The spiritual market is the forth big market covering such subjects as personal development, astrology, hypnosis and numerology. As you can see, there are lot's of opportunities for online home business ideas.
2. Does It Have Healthy Competition?
Your next step is to create a list of online businesses to start and then check to see if people are actually buying in those markets. Use the search engines to see if there is an audience looking for information within that market. Find a market that has people who are prepared to pay for a solution to their problem or pay for information that will save them time researching their problem. Remember that when starting an online business, it is a lot easier to serve an existing market than to create one from scratch.
3. Choose A  Product To Sell
The easiest and quickest way of starting an online business is with affiliate marketing. This is when you sell other people's products and earn a commission on each sale you make. Commission's are usually between 50-70% of the total sale price and sometimes can even go up to 100% on low prices items. You don't have create your own products, buy any stock, organise deliveries or get involved with any customer queries. The product owner does all of this. Your job is to find the customers and promote the products to them.
4. Generate Traffic
When it comes to generating traffic there are two main routes to take. You can use free marketing methods like blogging, article marketing and video marketing. Or, you can do paid marketing like pay per click, banner advertising and solo ads. When starting an online business free traffic can take a while to gain momentum, but when it starts it can generate a constant flow of traffic for years. When you buy traffic, it delivers the results almost instantly but the traffic stops as soon as you stop paying. The best strategy for generating affiliate marketing traffic is to use a combination of both free and paid methods.
5. Create A Sales Funnel 
Just sending traffic straight to an affiliate link hardly ever works. The trick is to always get a person on your email database first before going after the sale. It doesn't matter what your online business ideas are or what you are trying to sell, the key to online business success is having a list of prospects that you can email whenever you want. Once you have people on your email list you can follow up with a series of emails selling the product you are promoting.
Starting An Online Business With Affiliate Marketing
As mentioned above, the easiest way of starting an online business is with affiliate marketing. You don't have to worry about creating products, payment systems, organizing delivery, customer support or any of that stuff. All you have to do is send traffic to an offer and then you get paid a commission every time someone buys through your affiliate link. It is a risk free way of how to do business online and a way to gauge a market before creating your own product. Check out this free report that explains how starting an online business can be done without the worry of the technical stuff that you feel may be holding you back.