How Do You Build A Successful Online Business?
You don't need to me to tell you that running a successful online business involves more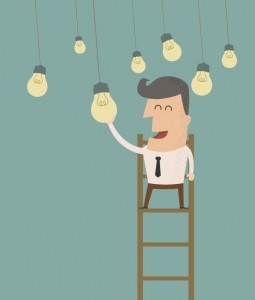 than sitting in front of your computer for a few minutes each day and pushing a few buttons.
Did you know that some people are actually afraid of success? That may sound silly, or even impossible at first. But the fact is that many of us struggle to achieve the things we desire because of subconscious fears. Consciously, you plan and work to succeed but subconsciously you struggle to overcome negative beliefs that success is just not possible.
The positive news is that with the right skills, strategies and mindset you can build a successful online business. Here are 7 practical ideas and tips that you can put to use right away.
7 Bright Ideas For Running A Successful Online Business
1. Get To Know Your Ideal Customer
Since 2007 there has been a massive shift of people buying goods and services on the internet. But this does mean that every internet entrepreneur will have a successful online business. The key to starting and maintaining a successful business is to bring something to the table within your chosen niche that nobody else is offering your potential customers.
All your marketing, blog posts, emails articles, press releases, videos, etc, should be focused on your target customer. Let them know the benefits of buying from you, rather than your competitors. And it doesn't always have to be about price either. What extra value can you offer in the form of your experience, knowledge, delivery, after-sales service, guarantees, reputation, quality, bonuses, community. etc?
2. Develop A Relationship With Your Prospects and Customers
People buy from people that they know, like and trust. When somebody visits your website for the first time, it's highly unlikely that they will want to buy from you there and then. They don't know you and they don't know if your products or services actually offer any value or benefit to them.
To grow your business and the relationship with your customers, always provide valuable content on your website, blog posts, articles, videos, emails, etc. If you don't think that your best friend would like what they see and read on your website, don't expect your prospects or customers to like it either.
3. Build An Email List
To build a relationship with a potential customer, you have to stay in contact with them. The most effective way to do this is via email marketing. To encourage somebody to give you their email address, you will have to offer them something of value in return. This could be a free report, ebook or video that provides information that your audience will find valuable. Remember that whatever you give away represents your business. If you give away rubbish, your online business will be seen as providing rubbish and that includes the products that you're trying to sell.
4. Have A Proven Marketing Funnel
A marketing funnel is the journey that takes somebody from being a new prospect to a loyal customer. These steps start when a person provides you with their email address. A prospect will, on average, need to see or hear your marketing messages at least 7 times before they take action and buy from you. Let's say you emailed them a free report. The next stage of marketing funnel would be to send them a series of emails that continue to provide value. This is when you offer 'entry-level' low cost products or services that will help them further.
Once they make their first low cost purchase, they are guided further down the funnel to mid-price products. This could be, for example, joining your membership site or attending a live workshop. From there, they may opt for a high ticket product that could sell from $1000 upwards.
FREE REPORT: 5 Must Have Ingredients To Build YOUR Online Business FAST!

5. Use Advertising 
You may have the best products and the best website online, but if your target audience does not know that it exists, you're never going to have a successful online business. Advertising online is more powerful and more targeted than ever before. There are many cost effective ways that don't cost eye-watering amounts of money. Advertising your online business should be viewed an important and necessary investment rather than a luxurious and unnecessary expense.
6. Don't Rely On One Marketing Strategy
This leads on from point #5 above. To run a successful online business you can't  rely one marketing and promotional strategy. If, for some reason, the marketing channel that you're using stops sending your messages, you won't have a back up plan. On the other hand, you don't want to spread yourself to widely. Get proficient at a couple of internet marketing methods that reach your target audience. Then learn and test another, so that you've always got an alternative option.
7. You Don't Have To Do Everything Yourself
When it comes to your time, you can't get more. You can't work harder to get more of it. Your time is a finite resource that can't be increased or replaced. If you're going to run a successful online business you have to be more ruthless with the time you've got. That means that you might not have time to do everything yourself. There are many benefits to outsourcing the things that are burning-up your time  when you could be doing more to generate leads and sales. Websites like Fiverr and UpWork all have freelance workers ranging from website trouble-shooters to graphic designers to copy writers who can help lighten your load.
Proven Steps For Running A Successful Online Business
Thomas Edison is known as one of the greatest inventors in history. He once said that, "I have not failed. I've just found 10,000 ways that won't work." Every entrepreneur has speed bumps and problems which they have to navigate around. It doesn't mean that you have to give up at the first hurdle. Just pick yourself up, brush yourself off, and start again. To learn more about what makes a successful business and the proven steps to make your online business successful check out this free video from the Digital Experts Academy.