Why Entrepreneurs Love Online Business Opportunities
So why do entrepreneurs like online business opportunities?  Firstly, what is an entrepreneur? An entrepreneur is a person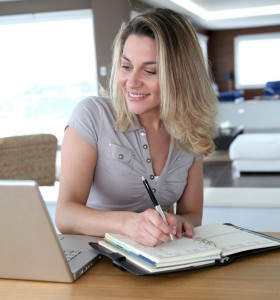 who sees an opportunity, makes a plan, starts a business, manages it and makes a profit from that business. Second, why online business? Sales of products and services via the internet are the fasting growing business sector and the recession has induced many shoppers to buy online rather from traditional stores.
Entrepreneurs know that they can make money online but are online business opportunities something that an average person can take advantage of?
7 Reasons Why Entrepreneurs Love Online Business Opportunities 
1. Your Online Business Can Reach A Huge Audience
The market for online business opportunities is huge. Over 3 billion people (approx 40% of the world population) have an internet connection and this figure is growing by the hour. The United States, Germany, France, U.K., and Canada have the highest penetration of internet users where over 80% of population in these countries have an online connection. In contrast, a traditional bricks and mortar business will only appeal to prospective customers within their geographical area or to people who are willing to make the effort to travel to that store.
2. Low Set Up Costs
Online business opportunities require much less funding to start than conventional bricks and mortar businesses. At the very basic level you do need to purchase a domain name and hosting for your website but you avoid the high costs of renting a physical building, holding stock and inventory and employing staff.
3. You Don't Have To Produce Your Own Product
One of the easiest ways to make money online is the affiliate marketing business model. This is where you earn income by selling the products or services of other online merchants. For every sale you make, the product owner pays you a commission. It is a great way to quickly enter a proven market that has prospective customers who are ready to buy. You do not have to pre-buy and hold any stock, organise any payment systems or worry about product delivery as the product owner does all of this. Your job is just to find the customers.
4. You Don't Have To Be A Computer Genius
You may be concerned that to get involved with online business opportunities you will need a high level of technical knowledge and skill. But if you can send an email and search for something online using a search engine like Google, then you have the basic skills you need to get started. Think of it like driving a car. You learnt how to drive a car, but you don't have to know how the car actually works. That is the same when you start to make money online. You can easily and quickly learn the basics and be up and running in no time.
5. You Can Make Money While You Sleep
Online business opportunities allow you to automate your sales messages and payment systems. Apart from the fact that you don't have to actually pay somebody to sit at a computer and do this for you, your online business can be making sales around the clock. And what entrepreneur does not want to wake up in the morning, check their email and see that they made money whilst there were asleep?
6. You Can Work On It Part Time
Many entrepreneurs are busy people and are involved with lots of different businesses and projects at the same time. Online business opportunities do require more than just pushing a few buttons on a computer each day, but they can be worked on in your spare time. A lot of new online entrepreneurs actually start to work from home online as a side business to supplement their income from their day job.
7. You Can Expand Into New Markets More Easily
When you start with legitimate online business opportunities, you do need to focus on your core products and services. But, as your online business becomes more established, you can start to diversify and sell products and services that will appeal to other audiences. This is much easier for an online business because you can source these other products and sell them as an affiliate and leverage the knowledge of other people who have more experience in that new market.
The Complete Road Map For Online Business Opportunities 
The main reason that many people struggle when they try to make money online is that they have no solid plan. They may know 'what to do' but they don't know 'how to do it'. This often results in frustration, debt and failure of a potentially successful internet business opportunity. But now everything is ready for you with easy to follow instructions. This step-by-step system gives you everything you need to create profitable online business opportunities in any niche.