Easy To Follow Search Engine Optimization Guide
The objective of this search engine optimization guide is to help you to attract more organic (unpaid) traffic to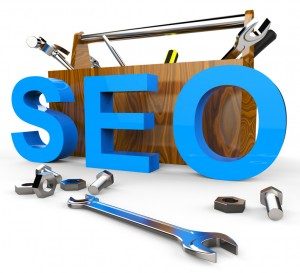 your website. Search engine optimization (SEO) can be a little complicated to understand. But if you're an online business owner you can't ignore it. When a prospective customer is looking for something online, they will use search engines like Google or Bing to find it. And, if your business can provide that person with the product or service that they are looking for, you want to make sure that you're listed in the search engine results.
There are many different types of software that you can use to improve your SEO. This search engine optimization guide is more focused on what you can do when you're working on your website. It's not comprehensive by any means but it does provide a number of simple non-tech tips that you can do yourself to improve your website rankings.
On Page Search Engine Optimization Guide    
Content
Anything you put on your website that provides information to your audience is content. Posts, articles, memes, images, and graphics – all of it is content. You want to have a variety of different types of content for maximum SEO value. Keep your paragraphs short, use bullet points and subheadings and make your content easy to read. Although search engines cannot 'read' images they can read the descriptions that you give to your images,so make sure you tag your website images with a keyword.
Quality vs. Quantity
While it's true that you want to put up a lot of content for your audience it's more important for the content to be of high quality. You do want to put up content more often than once a month but you don't need to put up several things each day if it will compromise the quality of the information for your audience. Remember that the search engines want to provide the best possible results to their users. If you provide high quality website content the search engines will favour your website over others when it provides search results.
FREE Checklist: SEO For Beginners

Keyword Research
Your keywords are the words and phrases that somebody will type into a search engine when they searching for information online. Many people choose not to do keyword research. But if you do it, you'll waste less time creating content that doesn't get results and end up with more time to create awesome content that does get results. Insert keywords in your page headings and subtitles. Search engines pay special attention to the words in your headings as they use them as indicators to the main topic of the page.
Evergreen and Fresh
Your SEO results will improve if you produce material that will be relevant for as long as possible. When your content is 'evergreen' it means that you it focus on questions and needs that people will have for months and years to come. That's not to say you should avoid hot topics and trends of the day. But if you do create content about a current fad, be aware that while it might generate good SEO results now, it may fade away as time moves on.
Provide Solutions
Your content also should seek to provide solutions for your audience. They want you to help them solve their problems. They should be able to solve some of their problems without buying anything and your content can fulfill that need.
Authoritative
Longer more in-depth content such as long blog posts, white papers, and articles as well as guides can help people and search engines know that your site is serious and that you are there to help your audience. Don't stuff your content with loads of keywords to try attract the attention of the search engines. If you use keywords too much, your site could be regarded as spam and not appear in the search listings. The amount of keywords that you use is called keyword density. It's calculated by dividing the total number of keywords, by the total number of words that appear on a page. The accepted standard for keyword density is between 2% and 5%.
Off Page Search Engine Optimization Guide
The next type of SEO that you should concern yourself with is off-page search engine optimization. This is everything you do off your website to bring people to your website.
Trust
There is almost nothing more important to your success than trust. If you lose the trust of your audience, you lose sales and any authority standing. But, if you do what you say you will do and don't disappear for long periods, you can build trust. You can build trust by sharing authoritative and accurate content that you have created and that others have created. Just ensure that you double check any facts, are ready to answer questions, and you can back up what you say before you do it.
Backlinks
You will get you more search engine traffic if you have other websites linking to you. These backlinks are an indication of the popularity and value of the content on your website. The key factor is to get links from quantity websites. The best links come from truly legitimate websites especially educational or news related sites. But, websites that have been around a long time and have a big audience work too. To get more links, contact authoritative websites or blogs to see if you can provide a guest post or article. That post or article will contain a link back to your website.
Social Media 
No search engine optimization guide would be complete without mentioning social media. This is by far one of the most important off page SEO tactics. Using social media effectively can do wonders for your website traffic. People viewing and sharing your content on social media sites like Facebook, Twitter and Google Plus will register with the search engines. People will click on your content, often by chance. Make sure you've optimized it as much as you can using the tips above for onpage SEO.
The 4 Unbreakable Rules Of SEO
When you know how to do search engine optimization it can mean the difference between success and failure. It's not hard, just go through the list above and improve one thing at a time. You'll soon you'll see a huge difference in your traffic. Unfortunately many online business owners fail to rank in search engines because they violate one of more of the 4 unbreakable rules of SEO. Download your FREE Copy of Market Samurai to discover these rules and a search engine optimization guide to help you find those gold nugget opportunities that exist in your marketplace.