7 Great Tips To Sell Digital Products Online
When you promote and sell digital products online it's a different ballgame than promoting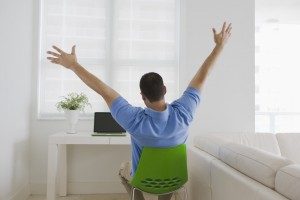 and selling tangible items. With tangible products, there are manufacturer specifications and consumer reviews. A product works, or it doesn't. When you're selling digital goods, there's a lot of opinion that plays an important role in whether or not a product is viable.
Digital products are informational in nature. They can be in the format of ebooks, audio or video courses, newsletters, software or access to membership websites.  Online entrepreneurs often sell digital products online as an affiliate. That means they promote and sell digital products that have been created by somebody else.
But you have know what you're selling and how it will benefit your target audience. If you get a reputation for promoting and selling rubbish, it will be hard for you to sell anything at all. Here are 7 tips that will help you promote digital products so that you get more sales and have fewer refunds along the way.
How Do You Promote And Sell Digital Products Online?
1. Investigate the Person Behind The Product
You can't judge a product by the product alone. When you sell digital products online, you have to stay aware of who created the product and where their moral compass points. You don't want to promote and sell something that does more harm than good.
Remember that as an affiliate, you can't pass the blame on to someone else. You're the first point of contact between your target audience and the product creator, so if things go wrong, your audience will blame you for not doing your homework. Look to see what other kinds of products this vendor has released in the past. Were they well-received by the marketplace? You want to know what their products are like if you don't buy and see for yourself.
2. Determine Whether or Not Add-Ons Are Needed
Add-ons come in the form of upsells and downsells and one time offers (OTOs) during the purchasing process. Of course, as an affiliate, you want to maximize your commission potential, so it's always best if people buy the additional items under your link.
But you have to be a safe voice for your audience and guide them in finding out the truth. Contact the vendor and ask if the OTOs or upsells are necessary for the product to work. Imagine you selling a product and saying it only costs $17, but the necessary add-on elements tack on an additional $97? Your audience is going to be angry if they were misled, even if it was unintentional.
3. Choose Reputable Affiliate Programs
When you sell digital products online as an affiliate, remember that not all affiliate programs are created equally. You want to use an affiliate marketing company with a reputation for paying out the right commissions, on time.
ClickBank is a notable authority when it comes to digital products to sell online. They have a stellar reputation for paying on time, every time – on a weekly basis every Wednesday like clockwork. You can find thousands of niche products to promote in their marketplace, from making money online to dealing with infertility. Every category has plenty to choose from. But don't forget it's still your responsibility to ensure the products that you choose to sell are above par before promoting it to your audience.
FREE Checklist: Get More Free Website Traffic

4. Don't Be a Bandwagon Jumper
As an affiliate for a digital product, you're going to be tested by vendors online to see how far they can push you into promoting anything and everything for them. If you start promoting crappy products to fulfill an obligation you made to someone, then you tarnish your own reputation and lose the trust and loyalty that you initially worked hard to secure with your target audience.
If someone approaches you for a joint venture as an affiliate, you should agree to review the product for your audience, but let them know it will be an honest review so they need to feel confident that their product would pass the test if you take it on.
5. Stay Tuned In for New Launches
If you really want to make a lot of money promoting and selling digital goods, then your promotion needs to begin long before a product is ever created! That's right – most super affiliates know what's in the pipeline and start promoting the product before it gets released.
You should be telling your customers about the product as soon as you find out it's on its way. Sign up as an affiliate pre-launch and get all of the buzz-worthy promo tools you can get that they provide. You can sign up on sites like JV Notify Pro and have these launch dates and details sent straight to your inbox. Or, just keep tabs on your favorite product creators and see what and when they're releasing their next product.
6. Add Value To Your Customers
Whenever you promote a digital product to your audience, add some extra value of your own into the mix. That doesn't mean you have to come out with a special product of your own.  It just means that you provide extra tips and advice about the product.
By doing this, your audience will feel like you're looking out for them. Eventually, if you add enough of these thoughts and ideas, people will be vocal in telling you that they're buying the product through your link specifically because they love your input.
7. Ask the Vendor for a Special Deal for Your Readers
There's nothing wrong in asking a vendor for a special deal for your customers. If there's not already a special going on, you can ask the vendor if you can give your list a discount. Anything will work – even knocking $5 off! If they don't want to do that, you could invite them to co-host a webinar with you. In this webinar, you have the expert on hand, so you can ask questions your audience may have.
 Use The Right Tools To Sell Digital Products Online
To sell digital products online successfully you need to seek out the very best products that your niche has to offer and be there for your audience to support them on their journey of implementation. For most affiliate marketers, this starts with ClickBank, the leading digital content selling platform. It has a vast library of over 6 million unique products and has paid out over 2 billion dollars to Clickbank affiliates who make money promoting and selling digital downloads online. To get one step ahead of other Clickbank affiliates you can clone a Clickbank super affiliate's entire marketing system and sell digital products online almost on autopilot.