The Pros & Cons Of Selling Your Own Product Online
When you set up an internet business you'll either be selling your own product online or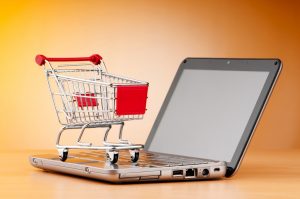 selling a product created by somebody else. Your own product could be a simple e-book or information product. Or it could be a more complex and high-value monthly membership or video course.
The other option is to sell these types of products as an affiliate marketer. This is where products have been pre-made by somebody else and you earn commissions on everything you sell. So what's better, selling your own product online or selling pre-made products as an affiliate?
There are pros and cons for both of these Internet marketing business models, so let's take a look at them.
The Pros and Cons Of Selling Your Own Product Online
When you create your own product, you're in total control. You decide the price, you decide what affiliates will promote your product for you, and you choose the type of product you are going to create. Unlike affiliate marketing, you are not subject to the terms and conditions of another business who may decide to change its agreement with you, or end the relationship for any reason at all.
Having said that, creating and selling your own product online can be challenging. E-books are very easy to make, and are a smart way to start when you create your own products online. However, you are in charge of finding potential customers, marketing your product, handling refunds, delivering the product, while also building and maintaining a good reputation in your niche or market.
On the upside, you can create as many products as you like. And with a digital information product, once you have created it, you can sell it again and again.  Sometimes with the affiliate marketing model, it can be difficult to find quality products you feel comfortable promoting. When you design your own products online, you can make them as value-rich and beneficial to your customers as possible.
FREE Checklist: How To Write An Ebook

The Pros and Cons Of Selling A Pre-Made Product Online
The biggest benefit of affiliate marketing is that you're selling a pre-made product. All the product research has been done and it's ready to sell to it's target market. You don't have to create the product or worry about any of the upsells or downsells. The company, who creates the products you are promoting does all that for you. They handle all the customer payments, customer service, returns and customer queries. Your job, as an affiliate, is to direct prospective customers to the product's sales page or website. In the case of large affiliate companies like Amazon, they work very hard to make sure that a sale is made once you get someone to their website.
Affiliate marketing allows you to test a market to see how profitable it is. You may want to get involved in selling your own products online in a particular niche but you won't know if there are people out there willing to buy it. Affiliate marketing gives you a way to test the market. There are affiliate products in just about every niche you can imagine, so you can promote a similar pre-made product to gauge the market response.
Affiliate marketing is easy, simple and probably the fastest way to make money online. What could be easier than referring someone to another website, and if that person makes a purchase, you get paid? Well, there are some negatives to consider.
The Downside Of Affiliate Marketing 
You are never in charge. Even if you enjoy a great relationship with an affiliate company they can change their terms of service, commission structure or affiliate agreement overnight. This means you can go from making thousands of dollars a week to hundreds of dollars a month, and you have no say-so in the matter.
It only takes one person to complain to the company you are promoting for them to terminate your affiliate agreement. In many cases, the terms of service are lengthy and detailed. If you slip up in even the smallest way, you can find your agreement with a company terminated without notice.
How To Sell Information Products Online
The easiest way to start selling your own product online is with an information product. The best selling information products are e-books and reports. You can also create video and audio tutorials. Basically, it's anyway that you can provide information to a customer. An information product is usually provided digitally. This means a customer can download or have instant access to it directly after purchase. With a digital product there's no waiting around for it to be delivered, Also, as mentioned earlier, you can sell the same products over and over.
An information product is an intangible item. So it can seem very challenging working out how to sell information products online that your customer can't actually hold in their hand once they have purchased it. When selling an information product, you have to be good communicator. You'll need to take the time to educate your audience about the benefits of your product. You can educate them with an email autoresponder series, videos, blog posts, webinars and even in-person live events at trade shows. Also offer a guarantee of some kind and focus on the benefits. How will the information you provide help your customer?
Free Checklist For Selling Your Own Product Online
There are pros and cons to creating your own product and selling products via the affiliate marketing business model. Whichever you choose, get started immediately. Fussing and stressing over whether you should create your own product for sale, or become an affiliate marketer, simply means you are putting off your path to generating income from the internet for another day. To help you get started with your own product, this free checklist outlines how to create a product to sell online in the form of an e-book. You can start selling your own product online quicker and more easily than you thought possible.