Are You Taken Seriously As A Home Business Owner?
One of the most challenging problems you can face when you're a home business owner is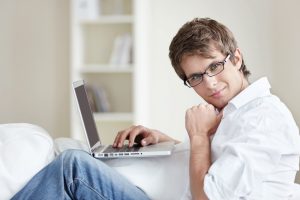 being taken seriously. You've taken the effort to investigate various home based business opportunities, chosen what's best for you and actually got started. It may be a side business or a full time business that you've started. You are doing something to fulfill your entrepreneurial ambitions and generate an income.
Yet you can have issues with family, friends and strangers alike. Why are they so suspicions and skeptical about a home business? Fortunately, there are a number of ways to deal with the different people in your life to make them take you seriously as a home business owner. And it all starts with you.
10 Ways To Be Taken Seriously As A Home Business Owner
1. Take Yourself Seriously
Before anyone else can take you seriously as a home business owner, you'll need to be the first one. Be serious about your business and take yourself seriously. Invest in your business education, write a business plan and take steps each day to make your plan come to fruition. Create an authority website with a domain name that either features your name or a relevant keyword related to your niche or industry. Write a regular blog. Blogging is an effective way to build your authority, expand your business, attract more clients, and maintain relationships with your current customers.
2. Get A Business License
A license legitimizes your business and is proof that you are a real entity to banks, partners, vendors and contractors. In some places they will not want to give you a license if you have certain types of careers like "writer," so you may have to find a way around that. For example, if you're a ghost writer or content writer, list yourself as a service provider.
3. Open A Business Bank Account
Once you have your business name, license, and are legally legitimate, open a business bank account. Keep your personal finances separate from your business finances. It will help you feel and look more legitimate.
4. Have A Solid Business Plan 
Be totally clear on who your target market are, what you want to sell to them and what resources you'll need to deliver those products or services. People buy from people that they know, like and trust. Do you know why people should buy from you and not one of your competitors? If you don't know, how can you expect your customers to know? Using your business plan, craft a daily plan for work. Decide how you'll get leads and customers and when you'll perform the work.
5. Follow Your Plan Every Day
One certainty in life is that time is limited. We all have the same 24-hours in a day. If you put off business tasks because you're doing things for other people, and keep putting your business last, no one will ever take you seriously as a home business owner. Instead, set aside certain working hours that you only break for emergencies. Then stick to it. Sometimes family members will buck against your system, but the more you put your foot down, the more that they will come to understand that you are working and cannot be disturbed.
Click Here For Your FREE Online Business Start Up Bundle

6. Show Them the Money
It may sound trite, but family members and close friends will often respect your business more when you are making money. They might not even realize you're making money if you don't point it out. Mention to your partner how much you deposit into your joint account from the earnings made from your home business. Mention to friends how your home business paid for the vacation you just went on.
7. Watch Your Money
Managing cash flow is an important thing for a home business owner because sometimes the income isn't a daily occurrence. One month you may get a big contract and earn $5000. Next month you might not bring in any money because you're working on earning the next $5000. Don't rely on only selling one product for one price. If you just sell just one product with no add-ons or up-sells your customers will not have sufficient options to pick from. Have a good mix of related products that provide different revenue streams. These include basic one-off direct product sales, recurring income revenue streams and high ticket items.
8. Get A Business Coach
A coach or mentor can help you tremendously with anything you need to do with your business if you choose the right coach. Don't just go for the cheapest one. You do pay for what you get. Learning from somebody who has gone before you and achieved success can make a big difference to your business. They can analyze your efforts, help you make headway with your promotions and profits and tell you the pitfalls to avoid.
9. Don't Say You Stay Home
It's especially hard for mothers to transition from being a stay-at-home mom to a work-at-home mom. People will see you as the same as always, sometimes most especially your husband and family. When someone asks what you do, don't say "stay-at-home mom" or "work-at-home mom". Tell them what you do –  "I'm a writer" or "I sell XYZ products to ABC audience."
10. You're Not The Only Home Business Owner
Owning a home business isn't really as new as people might want you to think. People used to own home businesses as small farmers, seamstresses or cooks. The industrial revolution changed all that. Now the technology revolution has enabled people from all walks of life to set up an internet home business as a part time or full time enterprise. And you don't have to do it alone as there many online forums where you, as a home business owner, can connect with like-minded entrepreneurs.
Tools, Training, Resources And Support For The Home Business Owner
If you are serious about being a home business owner, eventually other people will take your business seriously too. Given the right know-how and tools, anyone who takes consistent action and puts in the hard work can build a successful business from home. Even people who have never owned a business before and don't know where to begin. If you're serious about your home business here are the tools, training, resources and community support to help you succeed.