Will The Six Figure Mentors Work For You?
Since launching, the Six Figure Mentors have shown hundreds of people time and time again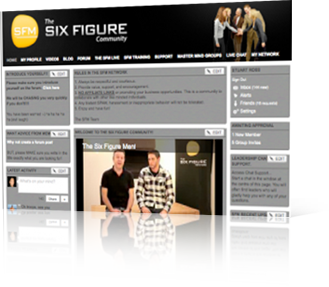 how to lay the foundation for a new business where they could become self sufficient at making money online.
The Six Figure Mentors provide you will ALL the marketing training, tools, techniques, support you need to be an affiliate marketer or to be an online digital expert. PLUS they provide you with a genuine high ticket (> $1,000+ per sale) income earning opportunity. Over the years that I have been associated with the Six Figure Mentors I have never known them to be anything but ethical, genuine and innovative world leaders in the digital marketing world.
But does this mean that it will work for you? Let's take a look….
7 Reasons To Join The Six Figure Mentors
#1. Anyone Can Do It
My biggest concern when I first considering joining The Six Figure Mentors was that I had never built my own website and, quite frankly, my technical knowledge was very limited.  It looked like a great opportunity but I thought it was out of my reach. In the end it was probably the hope of a better life that drove me to get started. But the I was delighted to discover that the The Six Figure Mentor business system is incredibly simple. There are step-by-step video tutorials and live trainings that show you in plain English, how to do everything they do. No existing expertise required. All you need is the will and determination to make it work.
#2. The Six Figure Mentors Exclusive Private Community
Ever felt frustrated, lost, or overwhelmed when starting something totally new and on your own before? There is a specific reason for this… you probably had nobody to turn to when you were stuck. You will never have this feeling as a member of The Six Figure Mentors. The owners themselves (Stuart Ross & Jay Kubassek) and SFM`s leadership team are available for support, which is awesome, however that is not even the best part.
Here, you have the ability to connect and communicate with hundreds of other aspiring and successful Six Figure Mentors' members.  You can communicate directly with people that are having the same problems as you; people who have solved these problems already and want to help, along with many very successful online marketers, some of which make multiple six figures every year. Chat with real people who share your goals and ambitions and will help you on your journey to success.
#3:
The Training Works!
With hundreds of training tutorials, videos, and downloadable guides (and growing everyday), The Six Figure Mentors offers online business training like no other platform. If you are an absolute beginner or if you are an expert looking to expand your knowledge base and network, their robust training will help you take your business to the next level.
There are various training categories within The Six Figure Mentors training system. These include topics such as:
Getting Started Fast
Laying Your Foundations
Starting Your Marketing
Blogging
Video Marketing
Ezine Advertising
Forum Marketing
Facebook Advertising
WordPress
Each category contains its own set of specific resources which walk you through the entire process. If you are an absolute newbie, this will get you up and running very quickly.
It was actually the blogging module within The SFM that enabled me to start this very blog – putting to work what I learned, straight away!
Here's a snap shot of the 'Training Vault' – It's so Easy to use!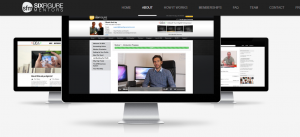 #4. Amazing Tools and Services
What many people are paying extra for comes included in your The SFM membership.
Here`s where I saved a ton of money with tools and services included such as: website hosting, website builder, graphic creator, ebook cover creator, viral report builder, simple tracking and split testing software, it goes on and on.
The SFM will continue to exceed your expectations. When the guys behind The Six Figure Mentors create a new tool or service they give it to members at no additional cost.
#5. Minimal Initial Investment
This business model has minimal start-up costs. Most ordinary businesses or franchises with this kind of income potential take hundreds of thousands of dollars/pounds to start and require huge loans. What will your start-up cost be with The Six Figure Mentors? It costs $29.95 to submit your application. Then starting with Module 1, you can test out the system, get on the phone with a coach and have all your questions answered. Then for the full business system, which is optional, its just a $297 one-time fee and $97 per month thereafter (no contracts or minimum term). That`s right, $297 for a digital business system that includes all the marketing, products, systems and support you need to succeed online.
#6:
Real People = Real Success 
Obviously, outside of all the features, support and training at The Six Figure Mentors, whether or not people are succeeding is important to me. If people are not succeeding around me (and if I haven't succeeded), then I do not recommend something. Whether this is a program to help you lose weight or to help you make money, the claims have to match the product quality or I don't promote it. It is as simple as that. At The Six Figure Mentors you have the foundation to be as successful as you want.
The cool part is that I am not even close to being the most successful member at The Six Figure Mentors. There are people within the community that make much more than me (multiple six figures per year) that started with SFM Founder Stuart Ross. There are also many people earning $20, $50, $100+ per day very quickly with the training.
If I can achieve success with something, so can you. I am just a regular person that was willing to work towards something…and with the help of The Six Figure Mentors and a little elbow grease I did it and I am here today
#7. You Have Absolutely Nothing To Lose
Having nothing to lose is probably the biggest reason to join The Six Figure Mentors. You literally have nothing to lose and everything to gain. Why? Because you have a 30-day money back guarantee. The chances that you won't love this course are slim (there's a 3% refund rate), but even if you don`t – just send the SFM support an email and they`ll give you all your money back, no questions asked.
To get started RIGHT NOW with The Six Figure Mentors and gain INSTANT access to the system and training, click the link below to find out more!