Build A Solid Internet Based Business
An internet based business provides the opportunity for many of us to fulfill our entrepreneurial ambitions. Ambitions that perhaps would not be possible in the traditional business world.
The set up, time and costs of starting an online business from home are considerably less than starting a conventional 'bricks and mortar' business. An internet based business can reach out to customers all over the world and operate 24 hours a day, 7 days a week.
But that's not to say that you can ignore all the regular rules of business. There are lots of legitimate online business opportunities out there and, regardless of the niche or industry, if you master the following 4 skills, success will certainly follow.
4 Skills That Will Make Your Internet Based Business Fly!
1. List Building
If you've been online for any length of time, you'll know that internet businesses that make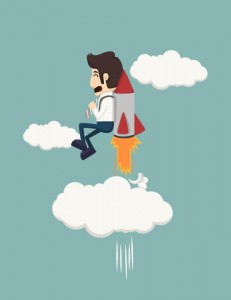 money say: "The Money Is In The List".  This is the list of prospects who have voluntarily given you their permission to send them emails about your products and services. So what's so special about this skill for your web based business.
Well, firstly, you actually have to get people to opt-in to your list in the first place. It's very unlikely that anyone will give you their email address if you're not offering something in return. So you have to be able to provide them with something of value that they will want and that is related to your product or service.
Once somebody is on your list, you need the skills to get them to start to know like and trust you. If you just continually blast out sales messages your emails will not get opened or read. You have to learn how to build a relationship with the people on your list and let let them see you as a regular person, not a hard sell sales-person. Share videos or posts you think may be useful to them, even if they are not yours. Your subscribers will soon start to look forward to your emails. They will trust your opinions and will be more inclined to buy from you.
2. Generating Traffic
Knowing how to get traffic to your internet based business is an essential skill to master. If nobody is visiting your website, it's going to be very difficult to maintain and grow your business. There are essentially two types of traffic. Traffic that is free and traffic that you pay for. Both have their pros and cons.
Free traffic can take time to build up. The results are not instant but once the momentum starts, it provides a steady flow. You can generate free traffic from the search engines, social media sites, publishing articles, guest blogging, participating in online forums, online videos, pod casting and more. Free traffic may not cost you any money, but it will cost you time. Get skilled at one or two methods first, rather than trying to do them all at once.
Paid traffic provides instant results. You buy your traffic and you get it. But the traffic will stop once you stop paying for it. So you have to ensure that you buy website traffic carefully. Only pay for traffic if you are directing it to a page that you know will give you a desired result. This could be a lead capture page or to sales page that you know is proven to generate sales.
FREE REPORT: 5 Must Have Ingredients To Build YOUR Online Business FAST!

3. Content Marketing 
Another key skill to master when you manage an internet based business is creating high quality content. You may have a huge email list or tons of traffic coming to your website, but if the information that you're providing is rubbish, all your efforts will have been for nothing. Providing high quality content that is valuable demonstrates that you are a source of useful information. When you position yourself as a trusted adviser it will help to build trust, loyalty and credibility with your prospects and customers.
Content can be read, watched, listened to and shared. It can be an article, a blog post, a report, an ebook, an online course, a video or an audio. Without good online content your website has no value to your audience. The content that you put onto your website.provides your business with authority, credibility and liking. And these are all buying triggers.
4. Social Media Marketing
You can't escape the fact that social media has taken the world by storm. Whether you're running a home based online business or a large international corporation, your customers are using social media whether you like it or not. It's estimated that one in four people use social media in some form or another. Popular social networking sites like Facebook, Twitter, LinkedIn, Instagram, Pinterest and many others have become well known household names.
Social media makes it possible for your internet based business to connect and interact with your target audience. By having the skills to utilize social media to its full extent, you can greatly improve your business reach, reputation and growth. You can create profiles on social media sites where your target audience hangs out and integrate your efforts with your other marketing tactics.
Free Skills Package For Your Internet Based Business
One of the biggest challenges for any online entrepreneur is finding the time to master new skills. But now you can get free access to a cutting-edge Digital Skills Platform where you can brush up on your know-how even during a coffee break! You'll find hundreds of easily digestible video tutorials, from blogging tips to mastering social media platforms like Twitter and Facebook. These short, smartly-engineered online business courses are designed to help update your digital marketing skills. Each session is broken down into short 2 to 3 minutes segments which makes it easy to fit around the other tasks that you're doing with your internet based business.