The Reach Of Social Media For Small Businesses
Social media for small businesses is a growing force that can't be ignored. Your customers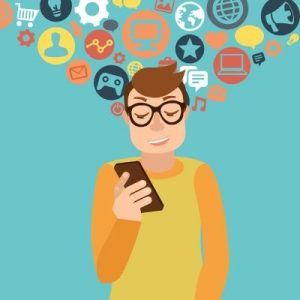 are using social media whether you like it or not. It's quickly becoming the best way for savvy companies to reach potential clients and to get their brand out into the market and recognized.
It's such a new tactic however that a lot of small businesses are still struggling to get it right. Often they're missing out on important marketing opportunities, or simply ignoring a whole segment of potentialcustomers.
There's a lot to know about social media marketing for businesses. But here are few simple tricks that you can implement right away  to use social media to your advantage.
The Power Of Social Media For Small Businesses
A great place to start is by adding a social media button to your website. By adding the button directly to your website, customers who are already interested in your product or service can "like", "share", "tweet" or "pin" your content.  When a person "likes" or "follows" you on social media it will allow them to receive updates or promotions you share out into the social media world. It's an easy way to engage your clients and keep them interested.
Make sure you include links to your social media sites in your email marketing as well. By adding social share or like buttons to your email marketing you can extend your reach beyond those on your mailing list. If someone likes your email content they can share it or tweet it out across social media, extending the reach to those within their social circle. It's another simple way to let social media do the marketing for you.
Free Checklist & Report: How To Profit With Facebook Groups

Social Media Marketing for Businesses
More and more people are looking for their favorite brands and products on social media. If they can find you there, chances are they will click through to your website to find out more information.
You can also get your current customers do some marketing for you. Your current customers will be your best advocates. If they are following you on social media, they can endorse your product or service by sharing, liking, or even just commenting on posts you make. You can get great, spontaneous reviews from people who are pleased with what you have to offer. This will spread your message through to the people in their social media circle.
The Advantages Of Social Media For Small Businesses
By utilizing social media to its full extent, you can greatly improve your business reach, reputation and growth. Social media marketing for businesses is an effective tool and you will quickly see results once integrated into your regular marketing program. There are endless possibilities, and social media sites are constantly updating and improving to make marketing easy and effective. Social media for small businesses can't be ignored and you can discover how more than 20,000 entrepreneurs in over 119 countries have used it to drastically increase traffic, leads and sales.