How Effective Is Social Media For Your Business?
If you're using social media for your business, how effective are your efforts?  It should never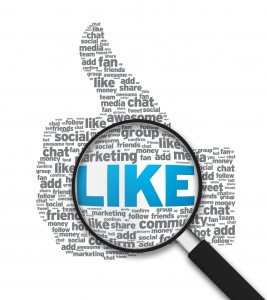 be a guessing game when it comes to finding out what works and what doesn't work for your business.
Keeping track of what's going on in the social media world can actually be a reputation-saver. Your customers could be telling everybody but you about something that they don't like about your business. It's easier than you might think to keep track of social media for your business.
Here are 7 social media business tools that will help you to use social media to your advantage.
7 Tools That Keep An Eye On Social Media For Your Business
Keeping an eye on your social media will help you to tailor your message appropriately. It will also help you know how to plan marketing strategies on social media so that it works for you, not against you.
1. Klout
Klout give you a rating from 1-100 based on the effectiveness using social media for your business to drive traffic to your website. It measures engagement on sites like Facebook, Twitter, Google+ and LinkedIn. It gives you a Klout Score based on various metrics. These include the size of your network, the content created and the ways that people interact with the content on social media.
2. PeerIndex
Peerindex was acquired by BrandWatch, so its tools are integrated into Brandwatch's platform. Brandwatch audiences uses the PeerIndex 'Influencer Graph' of over 300m Twitter users to interactively search Twitter's author database and provide an advanced way to analyze what influencers are saying about your niche. It's a great way for analyzing what people are saying about your niche and your particular business.
3. Social Mention
Social Mention is an online tool that monitors social media for you business by collecting user generated content from the internet into a single stream of information. It allows you to easily track and measure what people are saying about you, your business, a new product, or any topic across the social media landscape in real-time. It monitors 100+ social media websites including Twitter, Facebook, YouTube and Google+.
Free Checklist & Report: How To Profit With Facebook Groups

4. Kred

The Kred platform works the same way as Klout since it gives your social account a unique score. The score is based on the number of your influencers and message outreach. Again, the influence score is calculated based on the number of tweets, mentions, and replies.
Initially, it will display your global Kred by default. This tool has the ability to summarize your best-performing posts as well as users whom you interacted with the most.
5. Klear
Originally called Twtrland, Klear is social data platform which started out by providing insights on Twitter profiles. But it now analyzes Instagram and Facebook and Twitter. It provides a comprehensive view of the people who influence social media for your business. It enables you to find people who have who have influence over your business' niche based on their location, skill or even names. The tool is free at the basic level. However, for a more in-depth analysis you will need the Pro version.
6. Mention
Mention allows you to monitor millions of sources in real time and in 42 languages, so you can react and interact. The integration with Twitter, Facebook, and Instagram lets you reply and engage right from your Mention dashboard. Mention also monitors YouTube, Pinterest, and other social networks. You can monitor specific keywords related to your industry, answer users' questions, and share related content that can help solve problems. You can also keep track of your content and thank those who share it with a personal message.
7. NinjaOutreach
NinjaOutreach is a prospecting and outreach tool but it can also be used to monitor what type of content works in social media. It allows you to see which posts or topics are generating a good amount of shares in Twitter, Facebook, Linkedin, Google+, and Pinterest. This way, you can fuel your content strategy by publishing articles that are already proven to get a good amount of exposure. In other words, take advantage of what's already out there and if it's working for other people, make it work for you as well!
How To Use Social Media For Your Business To Get Results
If you're utilizing social media for business you need to know how effective it is. What are people really saying about you? This can actually give you a heads-up for when you might need to do some damage control when it comes to your business' public image. Or you may need to change an element in your social media marketing that's not working. If you want to make the best use of social media for your business, discover how more than 20,000 entrepreneurs in over 119 countries have used Facebook to transform their businesses.