Yes, You Can Start A Side Business Online In 2017
The prospect of trying to start a side business online in 2017 may be appealing but are you concerned that you'll have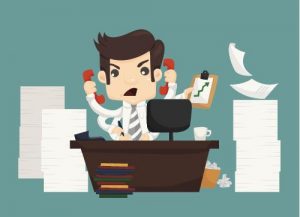 no time to do it? The one certainty in life is that time is limited. So how is it that there are some people who have good side jobs to make extra money and there are others who can't even get their work completed at their regular job?
The secret is to use automation. When you run a side business, you can't do everything yourself. Time and money are limited so you ensure that you can devote as much time as possible to tasks that generate income.
The most successful small business ideas use automation in some form or another. You just can't keep up with everything if you try and handle them manually. Here are 6 ways you can automate tasks when you start a side business online.
How Automate Tasks When You Start A Side Business Online
Like any type of business, big or small, when you start a side business online there is a lot of work to do. Don't believe any of the hype about earning millions by starting a part time business without investment in time and resources. Some of the work for an online business is repetitive, and needs to be completed daily and weekly. This means you have to be ultra-productive and manage your time correctly, or these repetitive tasks can become overwhelming. Then your online side business becomes a frustrating, headache-causing responsibility, rather than something you enjoy and look forward to working on.
1. Automating Blog Post Publishing
To stay relevant, and to keep ahead of the competition, you need to post fresh, original, high quality content onto your website a frequent basis. The best way to do this is to set up a blog. When you have a blog post ready to publish, you shouldn't have to log into your website and perform this task manually. All of the top blogging platforms, like WordPress, have built-in scheduling features. This means you can write multiple posts at once, and schedule them for specific delivery dates in the future. Take advantage of this smart automation strategy.
2. List-Building Automation
One of the most important tasks when you start a side business online is building a list of email subscribers. If you don't do this, you're leaving money on the table. Every time someone comes to your website, you should offer them a free resource or product in return for their email address. This allows you to build a list of people who are interested in what you have to offer. You can then market to them at any time via email.
Autoresponder services like AWeber let you schedule the delivery of emails well into the future. You write your emails and schedule them once, and they automatically go out to everyone on your list. You can literally schedule a year's worth of email delivery ahead of time. This improves the relationship you have with your audience. You can coincide an autoresponder email to go out every time you publish a post, create a content upgrade, want to offer a product or service for sale, or simply want to keep in touch with your followers.
FREE REPORT: 5 Must Have Ingredients To Build YOUR Online Business FAST!

3. Social Media Automation Tools
Social media allows you reach out and connect with your target audience. You should use social media inform and instruct, rather than attempting to sell. This is because the online world has become very social. That means interacting with social media sites like Facebook, Twitter and Pinterest is crucial to your online business success. Fortunately, there are plenty of social media automation tools which handle these tasks for you. You can schedule your Facebook, Twitter, LinkedIn, Pinterest, Google+ and Instagram posts using an app like Buffer.com. Also, there's smart social media automation on Missinglettr.com where your content is turned into a years worth of social media updates, pre-filled with quotes from your content.
4. Use Akismet for Comment Moderation
Without using a filter for incoming comments, the content on your website can become a magnet for trolls and spam. Akismet is an application that works with most blogging and content management platforms. This plug-in has certain filters you can set, and they eliminate 90% to 99% of incoming comments that are nothing more than click-bait, trash and self-serving backlinks
5. Automate Blog Post Research
This is a lifesaver. Google Alerts will send you notifications whenever a specific search term or topic appears somewhere on the web. For instance, if you start a side business online about parenting, you can set up a Google alert for "child car-seat legislation". The trick here is to make sure your search terms are included in quotes. If you don't, you could be overwhelmed with the amount of notifications you receive.
6. Outsource
Whilst this is not strictly something that you can automate, one of the big differences between a successful online business and an online business that struggles is outsourcing. When you start a side business online, you will still have to work a full-time job. You also have other time-consuming commitments and responsibilities which include your friends and family. Perhaps you volunteer or donate your time to a worthy cause. You may be the one in charge of running your household, which is another huge time investment.
Time is your most valuable resource. It cannot be replaced. The most successful business-people on the planet understand this. That is why they multiply their time exponentially, by getting other people to work for them.
You don't have to hire lots of employees to reap the rewards of time multiplication. Rather than you trying to accomplish a multitude of tasks, some of which you are not very good at, it makes sense to free up your time to concrete on tasks that you are good at. Websites like Freelancer, Upwork and Fiverr have talented freelancers in a number of online business-related areas of expertise.
Start A Side Business Online With These Proven Steps
With all side business opportunities, it's not so much about finding the time as it is taking the time. Today will soon be yesterday and you won't ever get that opportunity back. It's worth noting that very few successful entrepreneurs have succeeded without without any assistance or guidance. Take advantage of this Free Online Business 'Crash Course' that has been specifically created to teach new wannabe entrepreneurs the proven steps and strategies to start a side business online.