Ready To Take The Leap And Start Affiliate Marketing?
Some people start affiliate marketing on the internet as they think it's a way to earn easy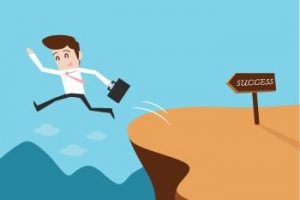 (and fast) money. But to say that making money online selling affiliate products is easy would be a lie.  It's not a point blank fact for just anyone. You need to possess certain mindset skills – such as determination, clarity, fortitude in the face of setbacks, and more.
When you start affiliate marketing you're like a commission paid sales person. You promote somebody else's product or service and, when you make a sale, the product owner pays you a commission. You don't have to worry about creating a product, delivering it or sorting out the payment systems. The product owner takes care of that.
Think you're ready to start affiliate marketing? Before you do, see how you answer these 6 questions.
6 Questions To See If You're Ready To Start Affiliate Marketing
1. Are You Worried That You're Not An Expert?
You don't have to be an online business expert when you start affiliate marketing. The product creator is the expert. Your job is to find the customers. Think of it this way – there's always someone out there who knows less than you do. There are people who don't know how to send an email, people who want to grow a garden but don't know the difference between fertilizer and top soil, men and women who would like to pick up golf but couldn't tell a driver from a 3-iron. If you ever have any doubt about your qualifications, just focus on these people. They want someone to help them solve their problems.
2. Are You Willing To Learn New Skills?
Finding the right customers for the right products does involve some skill. You can't sell everything to everyone and you have to be willing to learn how to choose the right affiliate products to suit your audience. Affiliate marketing is more than just selling. It is more about telling. It's about telling your customers how you can help them solve their problems or make their lives easier or more comfortable. There are some excellent and free affiliate marketing courses that you can sign-up to learn new skills.
3. Do You Want A Wide Choice Of Products And Services To Sell? 
Affiliate products can be a tangible item that is delivered to the customer's front door or digital products that a customer can download instantly to their computer. These include items like ebooks, membership sites, software programs and audio or video products. You could even sell a mixture of these items. And don't forget coaching programs, too! You might be able to promote a coaching service and earn a commissions when people sign up. There are a number of affiliate websites that can check out to start selling other people's products online. These include: Amazon, CJAffiliate, ClickBank and JVZoo
4. Are You Prepared To Put In The Work?
Affiliate products don't sell themselves. When you start affiliate marketing, you will need to put in some work. You can promote your products in a number of ways. First, you can set up a blog on your website where you can write product reviews of your chosen affiliate products and explain the pros and cons of each one. You can include banner ads (usually supplied by the product owner), text links, and more on your blog. You can also promote products via emails to the subscribers who join your list.  And of course, social media also offers a place for promotions. Twitter and Facebook would be the two most-used social media sites for text-based promotions, but you can also try Pinterest for images, and YouTube for videos.
5. Do You Want To Build A Legitimate Online Business?
As an affiliate marketer, you want to have a solid marketing strategy that makes you an authority in your chosen niche, even if you don't have a product of your own. That means you need to gain respect for the products you promote (as well as the people). Ask product owners for review copies, or purchase the product yourself so that you can review, instead of simply promoting it to your audience, sight-unseen. Giving a thorough review builds trust with your audience, but only if you're honest about the product's potential shortcomings.
6. Are You Willing To Promote Other People's Products?
When you promote affiliate products, you're not just promoting the product itself. You're promoting the person or business selling it. Product owners have no problem paying out commissions to affiliates because it would cost them a lot more to advertise and promote their products to all those customers. When you start affiliate marketing you have to ensure that you align yourself with a reputable product owner who supports their affiliates. Remember that product creators get their affiliates to do their marketing for them and pay nothing if the affiliate does not sell anything.
Free Blueprint To Help You Start Affiliate Marketing
Affiliate marketing is a great way of starting your own internet business. If you're the type of person who likes helping people then affiliate marketing might be right for you. There's more of an emphasis on it being a solution to a problem, rather than the specifications of what the product includes. Check out this Free Blueprint that is packed with affiliate marketing tips to help you start affiliate marketing quickly and easily.