Where Do You Start With An Online Business From Home?
If you want to start an online business from home it can be a bit daunting. The online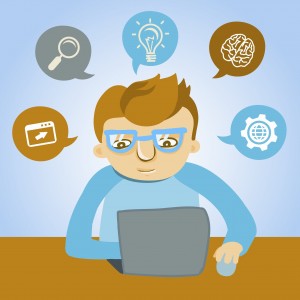 business world is competitive and with all the big companies and corporations online, how can a home internet business get any customers? The good news is that even though the internet is competitive, it allows you, as an average person, to use it in the same way as big businesses do.
A potential customer can only look at one website at a time and, if you have the right elements in place, that website can easily be about your business. Here are the 5 key ingredients to building a successful online business from home.
Where Do You Start With An Online Business From Home?
1. Get A Solid Business Model
Just like traditional 'offline' business needs a solid business model, so does your online business from home. That means you need to know who your target market are, what you want to sell to them, what resources you will need to deliver those products or services, why people should buy it from you and how you will let prospective customers know that they can buy from you.
2. Find Your Customers
Your online business from home may have the best website and the best products, but if nobody knows that you exist, you won't have a business. You need to have a strategy in place to find prospective customers. Not everybody is going to want to buy your products and services and the more focused you are on your target customer, the easier it will be for you make a sale. To get these prospects to visit your website and sales pages you are going to have to spend time or money (or both). You spend time by creating content to attract people to your site via the search engines or you spend money on placing targeted advertising.
Click Here For Your FREE Online Business Start Up Bundle

3. Build A List
Anyone who has a successful home internet business will tell you that the "money is in the list". This means that it is your list, or data base, of prospective customers that will make your online business from home a success as they are the ones that will buy from you. It is rare for somebody to buy from you the first time that they visit your website. And website traffic stats show that for every 100 people who visit your website, only 1 will return of their own choosing. So, when somebody does visit your website, you need to remain in contact with them rather than hoping that they will return again in the future. By capturing their email address on their first visit to your website, you can remain in contact and email them useful information about your products so that they can make an informed buying decision.
4. Create A Marketing Funnel
A marketing funnel is the steps that a prospect will go through once they have given you their email address and began to receive emails from you. It is a process where you provide information that is useful and beneficial to your prospect so that that come to know, like and trust you. Would you buy from somebody who you did not know, like or trust?  Their first purchase may only be a low priced product but over time, as they come to see the value you provide, they will be more likely to buy higher priced items and remain a customer who buys from you again and again.
5. Learn From Experts
If you were starting a new job working for somebody else in a traditional offline business, you would expect someone at that business to show you the ropes and how to do your new job properly. Why should it be any different when you start a work from home online business? You can't possible expect to know how to do everything and many people do quit when they get stuck on a problem or when things don't go to plan. But, if you take the time to get guidance from online business experts, you can earn as you learn, avoid mistakes and become profitable much more quickly.
The Proven Steps To Running A Profitable Online Business From Home
The success of your home internet business depends on how effectively  you can put each of the points above into practice. Some might take you longer than it does the next person but once all the elements are in place you have the grounding that all successful online businesses following. To help you further, this free Online Business Training Video from the Digital Experts Academy has been specially created to provide new entrepreneurs the proven steps for running a profitable online business from home.