Why Bother Starting An Online Business From Home?
First things first – starting an online business from home is not a way to 'get rich quick'. It involves more than pressing a few buttons on your computer each day. It's a business, and like any other business, you have put in the work to get out the rewards.
If you're not willing to work, then setting up any type of business, not just an online business, is something that you best leave alone.
Certainly there is a lot to be gained from having a business online. You have access to customers from all over the world, the business can be trading 24 hours a day without you having to be monitoring it all the time and you don't even have to produce your own products (you can sell other peoples' products and earn commission on your sales).
That all sounds great and dandy, but is starting an online business from home really worth the effort?
6 Things That Make Starting An Online Business From Home A Bad Idea
1. You're Quite Happy With What You're Doing Now
In our world of convenience, from ready made meals to all inclusive holidays, it's easy to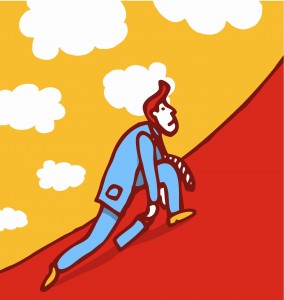 become lazy and let other people do all the work. After all, if you already have a regular day job do you really want to be coming home and doing more work on your own business? You only want to consider starting an online business from home if you have that burning entrepreneurial desire to build and create something of your own that you can be passionate about.
2. You Don't Like Learning New Stuff
The online business world can be overwhelming. Often people who start a work from home online business give up because they become overwhelmed with everything that they think they have to know. Think of it this way – when you were at school or college you weren't given the workbook and syllabus for all your subjects on the first day and then expected to take an exam the next day. You had months or even years to learn it. It's the same with a new online business. You need to be willing to learn new skills step by step. You don't have to be an expert start an online business from home. As long as you know a little more than your customers, you will always be one step ahead.
3. You're Not Prepared To Invest In Your Business 
Any business that you start, whether offline or online, is going to require investment. If it was possible to start an online business from home for nothing and then earn money from it, everyone would be doing it. At the very least, you will need to invest in building a website, buying a domain name and getting some hosting for your website. But these costs are minimal compared to the high costs of a traditional 'bricks and mortar' business, where you have to rent a physical building to operate from, buy stock and inventory and probably employ staff.
4. You Can Just About Switch On A Computer
You don't need to be an expert with computers to start an online home based business but you do need some basic skills. If you can write and send an email and use a search engine like Google to find some information online, you can do it. The very fact that you are reading this article shows that you have the basic skills to read something online. It's your decision if you want to learn new skills, which takes us back to point number 2 above.
5. You're Convinced That You'll Never Have The Time
We all lead busy lives. If you're convinced that you'll never have the time to start online business from home, is lack of time just an excuse for something else? We all have the same 24 hours in each day and you might be surprised to discover how much time you're actually wasting when you're not at your regular job. The key is to manage the time available and make it work more effectively. A regular job requires you to be at that job at a specific time on specifc days of the week. You need that same kind of structure when you have a work at home business
6. You're Not Bothered About Earning Extra Money
This is usually the main reason why people start an online business from home in the first place. They already have a day job, but as the cost of living increases and wages remain static, the need to for extra money becomes more of a necessity rather than a luxury. As mentioned above, nobody becomes a millionaire overnight, but with the right attitude, systems and willingness to learn new skills, it is possible to build a sustainable and legitimate home internet business that will generate extra income every single month or even single day – if you want it to!
Learn All You Need To Know About Starting An Online Business From Home
Starting a work from home online business is both exciting and a little scary. In the last year alone, there's been enormous growth in online sales. E-commerce is the fastest growing retail market in Europe. Online sales in 2015 in the Western Europe are expected to be more than £156 billion and in the US, more than $349 billion. These figures will only increase in 2016. To learn how you can get your piece of the growing world of online business, check out these proven steps for running a profitable online business from home.