Why Can't You Start Your Own Business On The Internet?
Have you ever wanted to start your own business on the internet but something keeps holding you back? Just when you're ready to take action, those little devils of doubt crop up inside your head making you think that you'll never succeed. So you do nothing.
You probably already know that the internet is a great place to business. You've seen people buying and selling on websites like Amazon and Ebay. But how can you compete with those big boys?
The answer is, you don't. People from all professions and ages are starting an online business that suits them. They have identified a specific target audience and are supplying products and services that their audience wants and needs. It's time to knock down those doubting devils that won't let you start your own business on the internet.
7 Devils Of Doubt That Won't Let You Start Your Own Business On The Internet
1. I Don't Have Enough Time
We all have the same 24 hours in each day. The only difference is how we choose to spend it.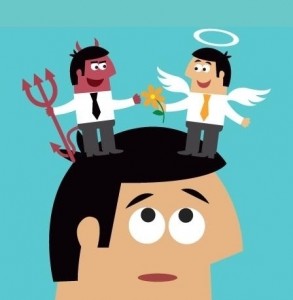 When you start your own business on the internet it will involve time. But rather than working harder, you need to work smarter. Not all tasks when starting a new business online will have equal importance. Determine which tasks are the most important and which ones are the least important. These least important tasks are usually the ones that will eat up your time, stall your progress, and eventually, cause you to give up. You can find extra hours by watching less TV, getting up a little earlier and working a few hours at the weekend. They all make a difference. Also, you don't have to do everything yourself. It can be more cost effective to outsource certain tasks, like a graphic design, copy writing or website production.
2. I Don't Have The Right Skills
You don't have to be a computer genius to start your own business on the internet. If you can send an email and search for something on the internet you can do it. There are many step-by-step online learning sites that will teach you how to start your own online business from scratch. People from all walks of life are waking up to the fact that an internet business is the best business to start from home. All you need is a computer, access to the internet and the willingness to learn a few new skills.
3. I Don't Have Any Products To Sell
You don't have to create your own products to start your own business on the internet. You can sell other people's products and receive a commission on everything you sell. There are thousands of product vendors out there, in just about every industry you can imagine, looking for people to sell their products for them. The product vendor takes care of all the product creation, development, packaging, delivery and payments. Your job is to get the products in front of your target audience. The are physical products that are delivered to the customers' door (see websites like Amazon and CJ Affiliate). Or, there  are digital products that customers can download instantly to their computer (see websites like ClickBank or JVZoo).
4. I Don't Have Any Spare Funds
Some people still believe that there are free online businesses that you can start and make loads of money for doing next to nothing. This is myth. As with any business, when you start your own business on the internet it does require some funding. Certainly an internet business does cost less to set up than a conventional bricks and mortar business, but you do need to spend some money. For example, you'll need a website domain name and hosting and some funds for marketing activity. Set yourself a budget and spend it wisely. You can save money by making your lunch everyday, rather than buying it ready made from a cafe. Instead of going to the cinema, watch a movie at home on DVD and don't go grocery shopping without a list of what you need and only buy what is on the list.
5. I Don't Have Any Support
You can sometimes feel a bit alone when starting up your own business, especially if there's nobody to help or motivate you along the way. There may be people around you who are suspicious of your internet business. They may mean well, but these nay-sayers can undermine your ambitions and efforts. You don't have to do it all by yourself. There are many online communities of like minded entrepreneurs to keep you motivated and provide support.
6. I Don't Think It's A Legitimate Business 
The internet is still really in its infancy. Over 3 billion people (about 40% of the world's population) have an internet connection. This number is increasing as some 20 million new internet users get online each month. If you've never bought something online, you'll know somebody who has. Online sales in the US alone was more than $340 billion in 2015, an increase of over a 14% as compared to 2014. This figure will only increase. You can be part of this online sales revolution. The sheer number of people buying products and services online prove that the internet offers you an opportunity to build a legitimate online business.
7. I'm Worried That I'll Get Overwhelmed 
If you're new to the world of business, or even the world of online business, it can be bit overwhelming. There's the worry that you might get caught up with technical issues that seem impossible to understand. You might feel that you're too old, too young or too inexperienced for the business world and now you're trying to start your own business on the internet! Taking a step-by-step approach you can start with what you only absolutely need and get that working effectively first, before moving on to the next element of your business. Those elements will be there tomorrow, next week and probably next year.
Free Course To Help You Start Your Own  Business On The Internet
A growing number of people, with no formal education or previous business experience, have learned how to start a new business online and earn a healthy income. Using the right business model, people from any walk of life are able to generate an online income while they build knowledge and experience on their journey towards true entrepreneurship. I would like to invite you take a free trial of one best Entrepreneur Online Courses that you're likely to find on the internet. The online economy is booming and there's never been a better time to start your own business on the internet. You can do it!