5 Simple Steps To Starting An Online Business At Home
A lot of people like the idea of starting an online business at home but never actually take any action to get the business off the ground. Or, if they do start, they give up after a few weeks because they've not made millions and it becomes too much like hard work.

Let's get these three points straight in the first place.
You're starting a business. This isn't a hobby or pastime that may last a few weeks. It's going to take time to build up a customer base. What new business, offline or online makes millions overnight?
You're starting an online business. An online business is the easiest business to start up but there are going to be some new skills that you'll need to learn. They are skills that anyone can learn but, just like driving a car, nobody is born with those skills.
You're starting an online business at home. So you'll most likely be working in your spare time whilst trying to juggle your regular household chores and family time.
Sound too complicated? If you've read this far, then it's not too late. Let's look at the first 5 steps to starting an online business at home.
The First 5 Steps To Starting An Online Business From Home
1. You Need Something To Sell
It might sound obvious, but if you're starting an online business at home you're going to need something to sell. "Too complicated!" you might say. "I've no products to sell and I've certainly not got anytime or skills to start creating one". OK, this is not a problem. Just like the majority of shops and stores on your local high street don't actually manufacturer the items they sell, you don't have to either. Did you know that there are many successful online businesses that generate their revenue by earning sales commissions as an affiliate by selling other people's products and services? There are thousands of different affiliate products in thousands of different niches that offer online business ideas for beginners.
You are called an affiliate because you're associated with the particular product that you're selling but you're not part of the business that actually produced it. You don't have to worry about creating products or even buying any stock before you can sell anything. Your job as an affiliate is to direct prospective buyers to a website page where the product is for sale. If somebody buys the product after clicking on your link to the product sales page, then the product owner will pay you a commission.
2. Build A Website
Yikes! This is way too complicated! I mean, won't you need to know all about website coding or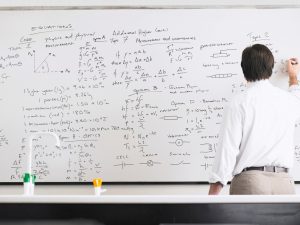 ecommerce programs? Building a website is often the part that deters many potential online entrepreneurs. But setting up a website is not as complicated as you may think. There are many software programs available that make the whole process easy. For example, the WordPress website building platform is used by many people, just like you, who have set up their own internet business.
You need a website as this will be your digital 'store front'. Before people will buy from you they will want to check that you are a legitimate business. Setting up a website is not expensive. To get started you'll need a name for your website. This is called a domain name. You'll also need some website hosting so that you can 'rent' space on the internet. There are several website platforms that can get you online quickly and easily in literally a few clicks! You can even outsource the whole set up if you do feel that it's too much for you.
Click Here For Your FREE Online Business Start Up Bundle

3. Get People To Visit Your Website 
By now your skills are growing. You've got some products to sell online and a smart but simple website that provides useful information about those products. The next step is to get potential customers to visit your website. After all, you'e not going to sell anything online if nobody visits your website. Website traffic is generated by two main strategies. You can use free website traffic methods or you can pay for your website traffic.
Free website traffic does not cost anything in monetary terms, but there is a cost in the time it takes to develop these strategies. Free website strategies include optimizing your website for search engine traffic, blogging, video marketing and social media marketing.
Paid website traffic is where you pay another business to direct traffic to your website. This can be done in the form of pay-per-click advertising on search engines and social media, banner ads on popular websites and solo ads, where your messages are emailed to people interested in your niche.
4. Start Building A List of Prospects
When you start to drive traffic to your website, it's very unlikely that your website visitors will buy from you there and then. So you need a way to stay in touch with them to remind them about the benefits of your products and services. The best way to do this is via email. So, you need to capture their email address. This is not as complicated as you may think. First, you will need to invest in some email marketing software.  You'll need this to enable you to build email capture forms to put on your website, to manage and store the emails you capture and to send out emails once people have given you their email address.
5. Keep Delivering Value
On average it takes a prospect 7 points of contact with a product before they buy. They will also be more inclined to buy from people that they know, like and trust. Remember that by this stage you have your prospect's email address. But you don't just want to send emails that are "sell, sell, sell". Think more about "Tell, tell, tell". 
Send the people on your email list regular emails that contain information that has value. They'll soon start to look forward to your emails, and to trust your opinions and advice. If you just do the hard sell from the first email, before you've built any kind of relationship or trust, then all you will achieve is people unsubscribing from your list and not selling anything.
Free 'Crash Course' For Starting An Online Business At Home
Starting an online home business at home can seem overwhelming. You might think that you'll get caught up with technical issues or you may feel that you're too old, too young or too inexperienced. This free online business course shows you how to start a small online business from home no matter what your technical knowledge or age. It provides invaluable insights into a proven internet home business model that lets you get setup and earning profit with a minimum of hassle, even if you're brand new to the online business world.