Want's Stopping You Starting An Online Business?
So you like the idea of running a business about something you enjoy doing, earning some extra cash and not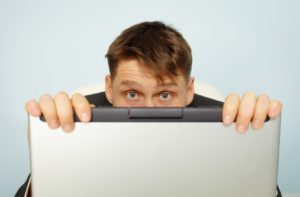 spending a fortune on setting it up but you won't consider starting an online business? What is it about the internet that scares off budding entrepreneurs?
Over 3 billion people (that's about one third of the world's population) have access to the internet, and this figure is growing day by day. There has never been a communication channel that has reached so many people and that so many people use.
Yet, when it comes to starting a small internet business some people hide behind their laptop and say that it's just not possible for them. Here are the big 3 myths that stop people starting an online business and why they are just not true.
Top 3 Myths That Stop People Starting An Online Business
1. You Need A Lot Of Knowledge About The Internet And Techie Stuff
The process starting an online business is not as complicated as you may think. The main requirement, as it is with any new business, is a determination to succeed and a willingness to learn new skills. When you learn to drive a car, you don't have to know how the car actually works. You just need to know how to drive safely and correctly from one place to another. It's the same when you learn how to do business online.
You don't have to start learning website coding or ecommerce programs. There are many online business systems that can be installed with just a few clicks following step- by-step instructions.  You can even outsource the whole set up if you do feel that it's too much for you. As long as you know what you want to sell and who you want to sell it to, everything else will easily follow.
2. You Have Nothing To Sell
Now that you've got past point number one and you realize that you don't have to be a computer whiz when starting an online business of your own, the next myth is that you have to produce something to sell. First, let's get this one straight. You do not have to produce your own products or services. You can sell somebody else's products or service and they will pay you a commission on everything you sell.
This business model is called affiliate marketing and there are online business ideas in just about every industry you can imagine. Affiliate marketing is a very popular way for new online businesses to start trading on the internet. The product owner takes care of product development, the delivery, the payment systems and any customer queries. Your job is get prospective customers to visit the product's sales page where they can purchase the product.
FREE REPORT: 5 Must Have Ingredients To Build YOUR Online Business FAST!

3. You Don't Have The Time
The final myth is the oldest one in the book. You think that they won't have enough time to do it. Sure, starting an online business does involve time and resources, but the solution is not about getting more time, as we all have the same 24 hours in each day. The key is to manage the time you have available and make it work more effectively.
If you already have a regular day job working for somebody else, you know what hours you have to work. It's the same with your own online business. Simple things like watching 30 minutes less TV each day and getting out of bed 30 minutes earlier gives you an extra 7 hours a week! The great thing about an online business is that you can work on it whenever and wherever you are, as long as you have a computer and access to the the internet.
Proven Steps For Starting An Online Business
As you can see from the points about, the myths that stop people from starting a small internet business of their own are just excuses for not taking action. It's surprising how so many people who like the idea of starting an online business never actually take any action because they don't think that they have the skills, resources or time to do it. But people from all walks of life are enjoying success in the online business world. If you can send an email, search for something online and are wiling to dedicate some and accept a little help, you can do it. Take action today and learn more about starting an online business so that you can grow your income with a business you are passionate about and be proud to call your own.