Starting Your Own Business Online
How can it be easy starting your own business online when you have to compete with over 1 billion other websites on the internet? It's no secret that more and more people are buying goods and services online and with more than 3 billion people having access to the internet (a figure which grows by the day) there is still plenty of opportunity for new online entrepreneurs.
Whether you are doing it as a part time home business or as an extension to your existing offline business, starting your own business online is not as complicated as you may think. An online business is your window to the world and you can reach customers from around the world, 24 hours a day. Here are the 6 steps to create a business on the internet.
1. You Need To Know What Are You Going To Sell
If you're still reading this article it shows that you genuinely are interested in starting your own business online. But to to that you need to know what you are going to sell and who you are going to sell it to.  Whatever you do decide to sell, whether it's a physical product or a digital product it will always help if you are genuinely interested in it. It's going to be very challenging to remain motivated about, say video games, if you don't like playing them yourself.
2. Will You Produce Your Own Product or Sell For Somebody Else's Product?
Once you have decided what you're going to sell and who you're going to sell it to, you need to either create a product yourself or sell a product that somebody has already made that suits you and your target audience. If you are starting your own business online, it is easier to sell somebody else's product and earn commissions on what you sell. This is called affiliate marketing. You don't have create your own products, buy any stock, organize deliveries or get involved with any customer queries. The product owner does all of this. Your job is to find the customers and promote the products to them.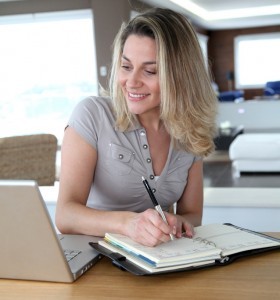 3. You'll Want Your Own Website
If you are starting your own business online using the affiliate marketing model as described above, you don't actually have to build your own website as you can send your prospective customers directly to affiliate website sales pages. However, if you do this, you may never know who that customer actually is, you won't know how to contact them or how to get them to buy from you again. To build a sustainable  online business, you need a website. It is not as complicated as you may think to create a business website. There are now many website building programs available that make it easy for new online business owners to create their own website.  It is important that your website design is clean and simple and make sure it is easy for website visitors to find your products and services.
4. Your Website Will Need Visitors
Every online business needs visitors to its website and sales page. If you have no visitor traffic you have no business.  When you are starting your own business online it can be a challenge finding a constant stream of prospective customers to visit your website. The key is to get good at one method of paid traffic and one method of free traffic. Paid traffic is generated from advertisements that you pay to a publisher to put online on your behalf because they have access to your target audience. Free traffic is generated when no money is exchanged for people to visit your website. It comes from sources such as your search engine rankings, social media posts, online articles, blog posts and emails to your own database.
5. You'll Need To Build A List
Once you have got the visitors to your website it is unlikely that they will buy from you there and then. You need to earn their trust so that they will be willing to buy from you. To do this you need to remain in contact with them so that will see that you are a genuine person to do business with. The most effective way to do this is via email. List building is the process of creating a database of potential customers who have given you their permission to email them useful information about your products and services. To encourage a website visitor to give you their email address you will need to offer something of value for free such as an ebook, report, video series or newsletter.
6. You'll Want A Sales Funnel
A sales funnel is a set of clearly defined steps that your customer will go through from the time that they sign-up to your list to the time that they become a regular customer. When starting your own business online you need to carefully consider how your sales funnel will take your prospects through the benefits of your products or services so that they can make an informed buying decision. For example, they opt-in to your list, they receive something of value for free from you, they buy a low price item, they get extra bonuses, later they buy a mid-price product, they get more rewards and further on, they buy a high price product. Then the cycle starts again.
Starting Your Own Business Online From Scratch
Regardless of your age, education, technical skills or qualifications there are no specific requirements for starting your own business online. But it's surprising how many people who like the idea of running an online business of their own never actually take any real action and do it. The online world provides the opportunity to earn money doing something that you are extremely passionate about. If you're interested in starting your own business online, this FREE Presentation reveals the proven strategies for running a profitable online business starting from scratch.