What Makes A Successful Home Based Business?
People will have different views on what makes a successful home based business. It doesn't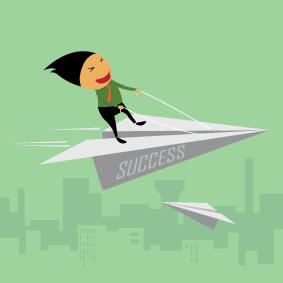 just have to be that the business makes load of money. People start home based businesses for a variety of reasons. Certainly, a lot of people do it to earn money but you can earn money from a regular job.
A successful home based business could be judged on the relationship that a home business owner builds with their customers or the enjoyment that the business owners gets from working on something that they are passionate about. Any money earned is secondary to their main motivation. But there are a number of key elements that the most successful home based businesses have in place.
7 Signs Of A Successful Home Based Business
1. You're On The Internet
The internet is the biggest marketplace the world has ever seen. No longer does a home based business only have customers who live geographically close by. The most successful home businesses have embraced the internet and reach out to customers from all over the world. They are able to operate 24 hours a day, 7 days a week which is just not possible if your business is not online.
2. You Know Your Target Audience
No matter what products or service you sell, the most successful home businesses have a clear focus on their target customer. If there's nobody interested in what you're offering, then no amount of marketing skill, budget or persuading is going get people engaged with your business.  A successful home based business understands the problems and issues that their target market face everyday. They know what makes their customers happy and how they can continually provide them with value. Too many businesses get caught up with concentrating all their efforts on finding new leads and new customers. But it costs 6 to 7 times more to get a new customer than to keep an existing one.  What does your business do to keep your existing customers happy?
3. You're Building A List
This leads on from point #2 above. Once you have identified your target market, you need to retain your existing customers and develop relationships with new ones. By building an email list of people who have expressed an interest in your home based business, you can remain in contact with them for as long as they are willing to receive emails from you. Email marketing is still the most effective marketing tool. The most profitable online businesses will all have a database of customers who they email on a regular basis. And these are not just all emails about buying something. They send out newsletters, updates, information, advice, tips, videos and more. These all set up your business as an authority and leader in your marketplace. So when the customer is ready to buy, they come to your business first.
Click Here For Your FREE Online Business Start Up Bundle

4. You Only Sell Top Quality Products And Services
There are many different at home business ideas. You can sell your own products or services or you can sell other people's products or services. The key factor is to only sell top quality products or services. It takes a long time to build your business reputation, but it can be easily damaged beyond repair if you sell poor quality items that are over priced and don't deliver what you promised.
5. You Have Multiple Revenue Streams
One is a dangerous number in business. Like having one customer or one way of generating income. If you lose that one customer or one revenue stream, through no fault of your own, you'll have to start your business from scratch again. Yes, you'll probably start your business with one core product, but what other products or services can you offer to your customers? Are there any upgrades or add-ons that enhance your product? Are there complementary services that you can offer to your customers? There may even be associated products that other businesses have created that you could sell in return for a commission.
6. You're Getting Traffic To Your Website
We've already established that a successful home based business will have a presence online. But your time and effort to build a website will be wasted if nobody is visiting your website because they don't know that it exists. There are two ways that you can get traffic to your website. You can generate free traffic or you can pay for traffic. Free website traffic can take time to generate, but when it starts it can provide a steady flow of visitors to your website. Paid website traffic delivers instant results, but when you stop paying, the traffic stops. It is always best to have a good mixture of free and paid traffic strategies to ensure you have a constant flow of website visitors.
7. Your Audience Trust You
In business, people buy from people that they know, like and trust. It's what makes a company successful. A successful home based business owner will take the time to build a relationship with their customers. They'll continually provide value and information to their target audience. They may create videos, social media posts, webinars, podcasts, ebooks, reports, etc that show them as real person rather than a hard sell sales-person. They'll share videos and articles that they  think may be useful to their audience, even if they are not about directly about their business. As people start to trust your opinions and like your messages, they will be more inclined to buy from you.
The Proven Strategies For Building A Successful Home Based Business
Regardless of your age, education, technical skills or qualifications there are no specific requirements for building a successful small business from home. The key element is to take action. It's surprising how so many people think and talk about their intentions to start their own home business but never actually take any real action and do it. To learn more about building a successful home based business this Free Home Business Video Presentation reveals the proven strategies for profitable businesses with low start up costs.