There Are Still Good Business Ideas For Today's Entrepreneur
Good business ideas come from spotting a good sized market of customers who want to buy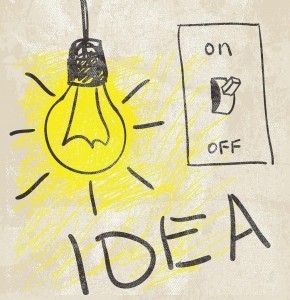 a product or service that you are selling. But a lot of traditional businesses are struggling. If the recent recession didn't knock them out, they still have high staff and premises overheads to pay, capital tied up in stock, delivery problems and the challenge of actually getting customers to physically come into their shops and stores. It's no wonder that nobody is talking about good business ideas.
But there is another way. In today's economy, there are plenty of viable business ideas on the internet. Not only are the start up costs considerably less than traditional 'bricks and mortar' businesses but the internet allows you to easily expand your business beyond the confines of your physical location. Also, your online income doesn't all have to come from just one source. Here are 5 online business ideas to get you started.
5 Good Business Ideas That You Can Start Today 
1. Create Your Own Information Product
People use the internet to find information and although there is plenty of free information online, a lot of the time it does not provide the detail that you need or, even worse, it is factually incorrect. There is also the amount of time it can take to find the information you want. Information products are good business ideas because people will pay for information that is valuable and beneficial to them and that they can get instantly. A digital information product, like an ebook, report or video tutorial can be downloaded immediately somebody buys it.  The topic of your information product can be about something that you're very knowledgeable or it can be something that you become knowledgeable about by research. You can even outsource somebody to create it for you and then put your name on it.
2. Sell Other Peoples' Products Online
It's easy for you to leverage the good business ideas of other people and sell them online. This is not  about stealing somebody's idea. It's about becoming an affiliate of their business. Product creators pay affiliates a commission for sales that they generate for their product. This business model is called affiliate marketing and it's one of the most popular online business ideas. The affiliate does not have the work involved with product creation, payment systems, product delivery or customer service. The product creator get's their marketing done for them by their affiliates and pays nothing if the affiliate does not sell anything. Check out these affiliate websites:  Amazon, CJAffiliate, ClickBank and JVZoo.
3. Freelance Your Services Online
Freelancing is another one of the internet's good business  ideas. The online world provides the widest possible market for selling your particular set of skills or services. Everyone from college graduates to people with long professional careers can find projects online where they can earn an income. Online freelance websites like Elance and oDesk have thousands of customers looking for writers, graphic designers, translators, web designers, marketing and sales staff, legal and financial professionals and more.
4. Create A Membership Website
If you have a set of skills or knowledge but the idea of freelancing does not appeal to you, one of the related online business ideas is to create a membership website.  This is where you get paid to pass your knowledge onto others. It is no different to being a consultant in the traditional offline world, where you help and advise clients with your business knowledge. Due to the reach of the internet and modern communication technology, an online membership website allows you to have customers from all over the world. Membership websites make great internet based business ideas because they provide a recurring income every month for a long as your members remain within your program.
5. Thought Leadership
Some of the most profitable online business ideas have come from an individual love and knowledge of a subject.  It is the provision of content, usually in the form of a blog, that is recognized by others as innovative, covering trends and topics that influence an industry. Blogs are popular with online entrepreneurs mainly due to the way that search engines work. Search engines need to provide relevant, up to date and quality information for their users and a regularly updated blog provides this information. Revenue can be generated by a number of ways including Google Adsence, banner advertising, affiliate marketing and product reviews.
Making Good Business Ideas A Reality
Above are just a selection of new business ideas. Online business ideas are out there if you're prepared to commit to them. Choose the one that is best for you, learn all the skills you need to make it work, perfect your skills, make money and repeat. If you don't know where to start or you're worried that you don't have the skills, education or resources to make these good business ideas a reality, then check out this FREE business presentation that reveals the proven steps for running a profitable online business.