What Types Of Facebook Ads Will Work Best For You?
Contrary to what many people may believe, there are several different types of Facebook ads you can use to promote your business. Since so many people use Facebook, it's a great way to quickly and easily reach out to large volumes of people. The good news for small businesses is that you can start and run a Facebook ad campaign for as little as $5.

But, depending on what you're trying to achieve, some ad types will be better and more effective than others. Here are the main types of Facebook ads that you should consider for your blog or business.
The 4 Types Of Facebook Ads
1. Getting More Page Likes
The good thing about advertising in order to get more page likes is that you're constantly building up a crowd of people who are going to follow your business even after the ad period has ran out. If they like your page, they'll be able to get updates on your business even without you needing to advertise. While you may carry on advertising anyway to get further business, the current followers will have access to your posts without advertising it to them.
2. Getting More Post Interaction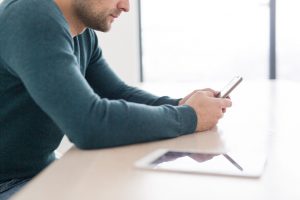 So what if you're not too interested in getting plenty of likes for your Facebook page? Perhaps you're more interested in getting engagement on the post and then clicks through to a link which is included in the post you're advertising. Post interactions will further promote the post, since friends of friends will see the ad too, even if you haven't targeted it to that particular demographic.
This is an easy way to double or triple the amount of people who see your post. Also, if people comment and share the post, they're doing free advertising for you.
FREE Checklist: How To Run Successful Facebook Ads

3. Video Ads
Videos are a great way of getting more interaction and more clicks through to your website, but videos work best if you're trying to get a following of people who will come back for more. If you post a funny video, an interesting video or simply something relevant to a particular demographic, you'll get extra likes on your page and increase your fan base.
4. Carousel Ads
These types of Facebook ads work best if you have a website that sells products or a variety of services. You can post several photographs under the same ad, and the viewers can scroll through the pictures, usually around 3-4. Not only does this allow you to advertise more content within the same post, but it also lets you create a bigger post which looks more attractive and contains plenty of useful information.
Keeping Your Facebook Ads Costs Down
While these different types of Facebook ads are a great way of promoting your business, it's still important to keep the costs down in order to stay within budget and make sure that you're not spending too much money on getting the extra business.  The extra revenue you might be earning will only be worth it if you're able to keep the costs of advertising as low as possible. Take a note of these Facebook advertising tips.
Target The Ads Properly
If you pay lots of money to have the ads sent out to everybody and anybody, you'll get a very low turnover when it comes to people actually clicking the ads. The adverts will be most effective if you target them to specific groups who may be interested. For example, males or females, younger people or the older generation or people in a specific area or town. This precise targeting is very useful for businesses with a physical local shop in a certain city or area.
Don't Advertise Every Post
Rather than spending money on advertising every single post you make on Facebook, only advertise the ones that you think people might click on. If you're just posting general updates about your business or the closing times and opening hours, you don't need to pay to advertise this. People who are following your page are likely to see that information. If anybody wants that general information, they can come and check out your Facebook page. They don't have to be sent there via a paid ad. You should only advertise posts which will bring in new customers or bring old customers back to you. Special offers, seasonal deals and anything which offers the customer something if they click the link are always good to advertise.
Create Attractive Posts
You can't create a boring post and expect the advertisement to automatically bring in lots of extra business.  You'll struggle to really get your money back even if you have a high budget and advertise it to thousands of people. Before promoting the post, think about the content you're sharing and if there is any way you could make this better. For example, while Facebook ads guidelines do limit the sizes of the images you can advertise, but it certainly helps to have a photograph or image on there to catch the eye as people are scrolling down their news feeds.
Free Checklist: Success With All Types Of Facebook Ads
There's a good chance your competitors are harnessing the incredible power of the most heavily trafficked social media site in existence. Even if the competition isn't advertising and marketing on Facebook, you need to. The reason is that there are a staggering 1.32 billion active daily users on Facebook just waiting for you to pitch your products and services. Download my free checklist, The Facebook Ads Guide to make your Facebook ad experience successful and profitable.